In pictures: Conjoined Sudanese twins separated in Saudi Arabia
The medical team that overseen separation of the Sudanese twin (Ramah and Wadah), announced it a success
The medical team that overseen separation of the Sudanese twin (Ramah and Wadah), announced it a success. The operation took place here today, at the King Abdullah Specialist Children's Hospital, of King Abdulaziz Medical City, at the Ministry of National Guard, pursuant to a directive of King Salman bin Abdulaziz Al Saud, reported the Saudi Press Agency on Friday.
Advisor at the Royal Court and the head of the medical surgical team for separating Siamese twins, Dr. Abdullah bin Abdulaziz Al-Rabia'ah, congratulated King Salman bin Abdulaziz Al Saud, for successfully completed the operation, which is the achievement No. 42, in this regard, through 22 years.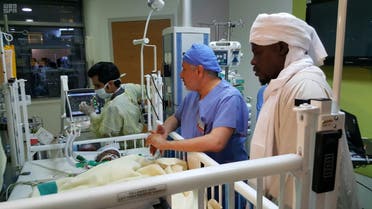 For his part, the father of twin Haroun Is'haq expressed gratitude and appreciation of King Salman bin Abdulaziz, the members of the medical and surgical team, for such a noble gesture, calling on God to perpetuate this country's security, stability and make its leaders an asset for Islam and Muslims.