'Bean' there, done that: Istanbul coffee houses are bucking tradition
Turkish coffee plays a central role in Turkish culture and as a form of gastro-diplomacy
The preeminent place accorded to coffee in Turkish culture is perhaps best illustrated by a popular saying: "A cup of coffee is remembered for forty years."
With its unique and ritualistic roasting and brewing method inside a brass pot with a long handle, Turkish coffee has been gaining popularity since the 16th century when it travelled from Yemen to the Ottoman Empire. It is now recognized by UNESCO as an intangible piece of cultural heritage.
However, it seems that the new potential rivals to this deeply entrenched tradition – the rise of third-wave coffee shops in Turkey - have not been noticed by fortune tellers who traditionally comment on the coffee grounds of the cups when the coffee is finished.
These new coffee shops do not restrict themselves to offer only Turkish coffee, but they also give people more options with different varieties, along with the organization of brewing demonstrations while many coffee festivals are held in various cities of the country throughout the year.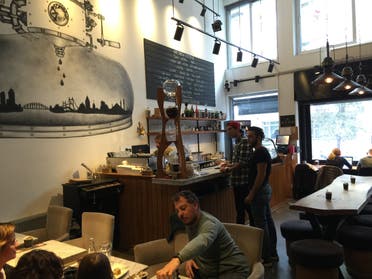 Selcuk Turunc is the co-founder of Drip Coffee Ist, said to be Turkey's first third wave coffee shop, located in Istanbul's Asian and European sides in two touristic locations - Bagdad Street and Istiklal Avenue.
"We have many Arab tourists who are open to new coffee tastes," Turunc told Al Arabiya English.
Although he doesn't have any intention of bringing an alternative to the Turkish coffee culture, Turunc said that Turkish coffee is basically made of low-quality coffee beans – a detail unknown to many.
"So since four years we have been informing people about higher segments of coffee with about eight brewing methods and 16 varieties of coffee beans imported from Africa, Asia and Latin America," he added.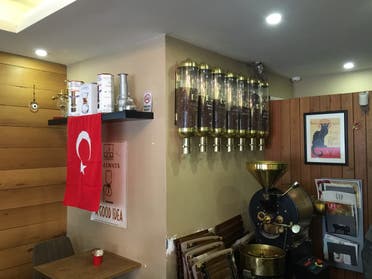 In Turkey, the consumption of coffee beans per capita in Turkey is about 400 grams per year, while the share of Turkish coffee in overall coffee consumption volume has decreased from 75 per cent to 65 percent in recent years.
Ministry of Coffee (MOC) is another hot spot in Istanbul for regulars of third generation coffee houses. Deniz Yildiz Duzgun, an attorney by profession, took part in this business five years ago – an occupation she had been dreaming of - with her Australian business partner who introduced her to deeply rooted Australian coffee brewing styles.
MOC Istanbul is opened in April 2014, firstly in Istanbul's upscale Nisantasi neighborhood. Now, it has branches in northwestern city of Bursa and Australia's Sydney.
"I'm receiving many franchise requests from Kuwait, Dubai and Bahrain these days," Duzgun told Al Arabiya News. "Especially during the summer time, we have a crowded Arab clientele who hear about our coffee house from social media or by the recommendation of their friends."
Duzgun doesn't see Turkish coffee as an alternative to third generation coffee trends because their brewing methods are completely different. MOC Istanbul also serves Turkish coffee and brings its coffee beans from Yemen.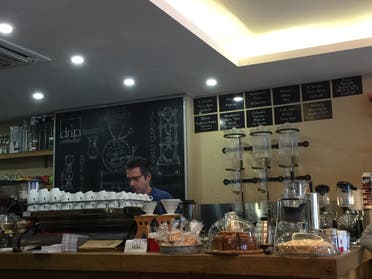 "But, Turkish people were much more familiar with Turkish coffee because of the centuries-long tradition. And now, they are in the process of being acquainted with a new coffee consumption style through new coffee beans and coffee shops having modern architectural design," she noted.
MOC Istanbul helps this new coffee culture by spreading the word. Co-founder Duzgun gives workshops in universities and private companies, while she also had a request to give coffee as a selective course in a university.
From another perspective, this new current of modernization is set to influence Turkey's hot drinks market and café culture.
"When I was a student, I used to drink granular coffee and Turkish coffee. Then the second wave coffee trend hit Turkey through well-known coffee chains and I started drinking second wave coffee as well as Turkish coffee," explains a coffee-addicted youngster, Serdar Unlu.
"When I was introduced to the third wave coffee I stopped drinking from the coffee chains and drink only third wave style espresso and Turkish coffee. While I switched from granular coffee to second wave coffee and from second wave coffee to artisan espressos, I never stopped drinking Turkish coffee and don't think I ever will," he told Al Arabiya English.
For Unlu, Turkish coffee is part of the third wave coffee movement as I can now find better and more diverse beans to prepare my Turkish coffee with.
Indeed, this new wave cannot completely demolish the cultural significance of Turkish coffee around the world.
Kader Sevinc, a social entrepreneur, is the founder of the Turkish Coffee Briefings, a project that began in 2011 as a cultural diplomacy platform where a group of volunteers are gathered to think on how Turkish coffee and delights can serve as a medium to share our culture with the EU bubble in Brussels.
Turkish Coffee Briefings sessions are introduced by a guest speaker, followed by a 45 minute exchange of views by participants while Turkish coffee and delights are being served.
Turkish Coffee Briefings meetings attract high-profile speakers from across EU institutions, think-tanks and European politics for round-tables organized in different venues in Brussels, including the European Parliament.
"It is an international round-table debate club on European issues in Brussels, inspired by the format of a traditional Turkish coffee gathering among friends. It is an all-volunteer initiative to promote Turkish coffee culture and to engage people in coffee conversations," Sevinc told Al Arabiya English.
According to Sevinc, Turkish coffee plays a central role in Turkish culture and as a form of gastro-diplomacy, it is one of the best and popular ways to introduce Turkish culture and Turkish hospitality, friendship and refinement abroad.
"The most effective cultural diplomacy distills cultural elements to their most tangible forms and communicates them to audiences abroad," she added.
Save
Save
Sav

Save
Save
Save
Save