Watch how a pilot avoided certain death by flying over a plane
A heroic Chinese pilot has avoided a major runway collision with another jet and saved the lives of 439 people
A heroic Chinese pilot has avoided a major runway collision with another jet and saved the lives of 439 people.
The quick-thinking pilot chose to steer his plane out of danger to avoid a near-miss drama. He was awarded with 360 thousand dollars (1 million Chinese Yuan).
The simulation video shows how close the incident was.
The pilot Chao was readying his plane for takeoff and started to accelerate on the runway when another plane suddenly appeared in front of him. The sprightly pilot, rather than crash into the landing plane, quickly pulled upward into the air.
According to the People's Daily Online in China, the Airbus A320 was about to takeoff from Shanghai when an Airbus A330 had just landed in front of it.
The Chinese stated that both aircrafts are owned by the China Eastern Airlines. It added that Chao missed the other jet by only 19 meters; he accelerated his plane to take off sooner. This incident took place on October 11 at 12:04.
China's aviation authority led an investigation into the incident. The air traffic controllers and crew members of the landing plane were held responsible for the incident for failing to maintain proper contact with each other. Subsequently, two air traffic controllers have lost their licenses following the investigation, and 13 other traffic control staff members working for China Eastern Airlines were punished.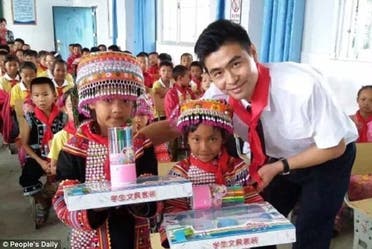 This incident was compared to the Tenerife airport collision in 1977 when two Boeing 747s collided on a foggy runway in the Canary Island. The accident claimed the lives of 583 people in what remains the biggest air disaster in history.
China Eastern Airlines awarded the mighty captain on November 3rd, for his quick-thinking that led to the prevention of the collision last month in Shanghai. A ceremony was held to acclaim the captain and the 26 crew members who received 600 thousand Yuan (71 thousand dollars).
The other plane was coming from Beijing to Shanghai with 266 passengers. Chao's plane was going to Tianjin with 147 passengers.