Newly married Saudi soldier writes 'I miss you' to wife before his killing
After hearing the news of her husband's killing by the Houthis, Ruweili said 'I am proud that I am the widow of the martyr Tamer'
Tamer al-Anzi, a Saudi soldier, wrote "I miss you" to his wife hours before his killing in the southern borders near Yemen. His death ended his six-month marriage.
Anzi's widow, Amani Ruweili said she received a message late at night from him saying "Amani, God bless you."
At that time, Ruweili did not understand his message. But later he sent her a voice message, saying: "Amani, I miss you so much. I am really tired and I want to have a long night's sleep."
He then sent her a photo of him smiling.
After hearing the unfortunate news of her husband's killing by the Iran-backed Houthi militias, Ruweili said "I am proud that I am the widow of the martyr Tamer."
Anzi was killed in clashes with the Houthis militias on the borders in Jazan.
Jazan is a port city and lies in the southwest corner of Saudi Arabia and directly north of the border with Yemen.
Saudi Interior Ministry said in a statement that the Jazan region was hit by artillery shells, mortars and rockets from Yemen, killing Anzi and wounding three other Saudi soldiers.
'Misk Stories'
Meanwhile, Ruweili has participated in a forum in the Saudi city of Jeddah called "Misk Stories."
The forum, organized by Prince Mohammed bin Salman Center for Youth, is about the lives of Saudi soldiers, who sacrificed their lives to protect their country.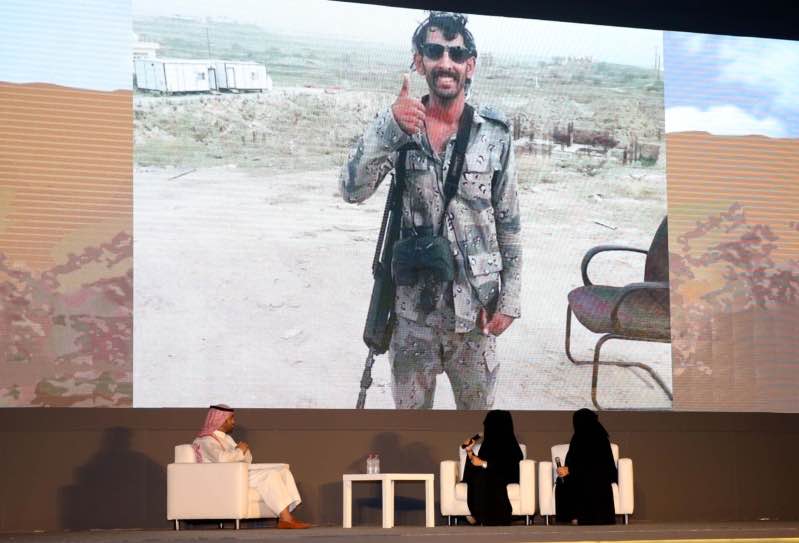 (The article first published by the Arabic language website for Al Arabiya News Channel)