Prince Charles sword dances his way in Oman
The prince was seen laughing as he held a 3ft-long sword and moved in time to music in a ceremonial dance
The Prince of Wales took part in a ceremonial sword dance as he arrived in Oman with the Duchess of Cornwall to begin their tour of the Middle East.
The prince was seen laughing as he held a 3ft-long sword and moved in time to music in a ceremonial dance to welcome the pair on the first day of the visit.
Camilla later met children and parents at a cancer association's hostel and was seen putting on a hijab.
During the seven-day trip the pair will also visit the United Arab Emirates and Bahrain.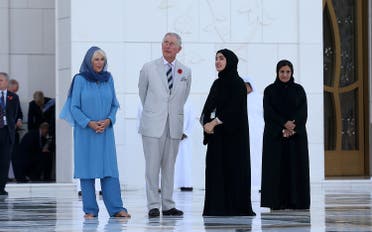 The couple are promoting UK partnerships in areas including wild life conservation and women in leadership during the visit, which has been organized by the UK government.
*This article also appears on AlArabiya.net.