Erdogan helps Turkish actor to ask Moroccan beauty's hand in marriage
It was Yildirim, who is already famous in the Arab world following the popularity of Turkish series in the region, who sought Erdogan's help
Turkish President Recep Tayyip Erdogan has a soft spot for romance and thanks to FaceTime, he used the video chatting app to ask a Moroccan beauty queen's father for her hand in marriage on behalf of Murat Yildirim, a famous Turkish actor.
It was Yildirim, who is already famous in the Arab world following the popularity of Turkish series in the region, who sought Erdogan's help to ask for the hand of Iman al-Bani, who was Miss Morocco in 2006, daily HaberTürk reported on Monday.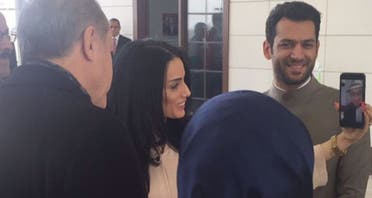 Yildirim published on Instagram a picture of him kissing his would-be wife on the forehead with a background of a traditional ceremony taking place in the southern Adana province.
So far, there are no details regarding when the couple is expected to finally tie the knot or if Erdogan is going to attend the wedding.
It was said that the two fell in love after when Yildirim commented on his Instagram account following remarks made by Bani as earlier reported by Al Arabiya English.