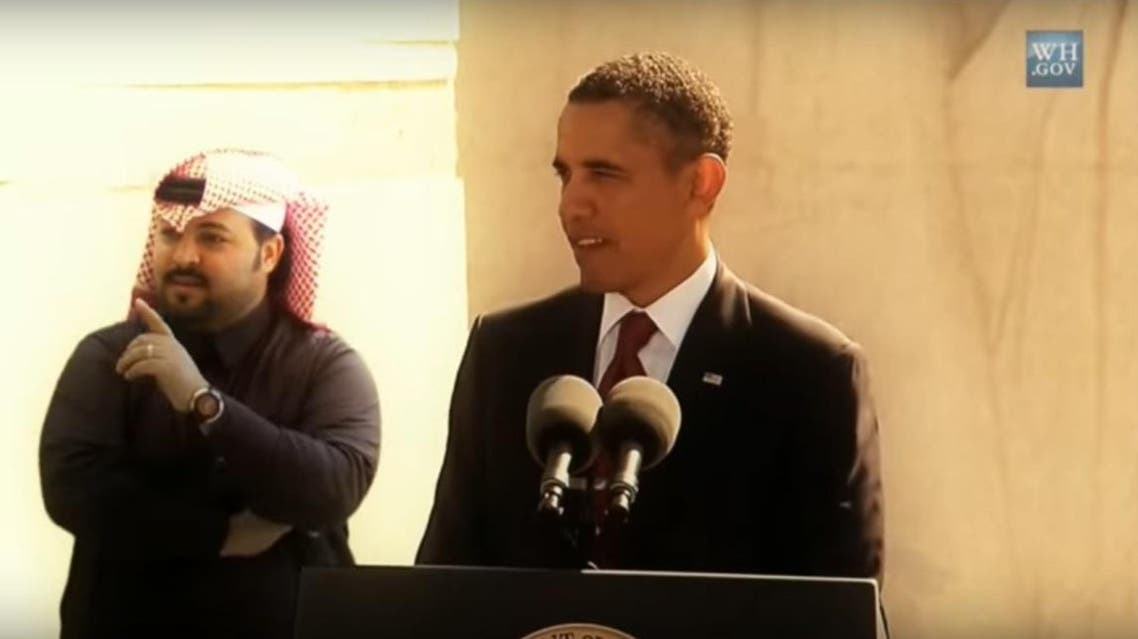 What's this Saudi man doing standing behind Obama?
Video showing a Saudi man standing behind US President Barack Obama while he was giving a speech has stumped many on social media
A Saudi man was able to cleverly design a video that made him look like he was one of the main organizers of an event where Obama was giving a speech.
The video spread quickly on social media, leaving people wondering about the identity of this young man, and why was he wearing his Saudi attire.
The video, watched 326,791 times on YouTube so far, was obviously faked.
Abdulrahman al-Ghamdi confirmed to Al Arabiya that the idea was the result of close and careful coordination with the White House so he can be free of any legal repercussion.
"I started looking for the perfect video of Obama. I sought to find the appropriate video clip and found one on the White House's official channel on Youtube. So I emailed them asking for permission to edit it, of course the conditions prohibited any manipulations that could harm the image of the President. Hence my email seeking their approval before uploading the video," he told Al Arabiya.
Abdulrahman said that he worked on the video for three days with the help of his friend Ahmed Noureddine.
"My goal was to experiment and gain experience. I used Chroma key technology to edit the video clip and was surprised that my work stirred controversy, many of the people who watched it thought it was real. I had no idea my work would stir up a wide discussion about my identity, while others denounced my presence from a political view point. I was struck by surprise , because it meant that my work was proficient and professional," he said.
*This article also appears on AlArabiya.net.