Saudi Arabia's Abu Sin reveals intimate life details
Abu Sin, who has mostly stopped his online activities, said unproductive free time played a major role in his decisions on social media
Much has been reported about Saudi Arabia's infamous social media star Abu Sin (the toothless one). He was arrested - later released - following revelations of video chats he had with an American girl. Now he has spoken to AlArabiya.net for the first time on the intimate details surrounding his life.
"My name is Abu Sin, I'm 20, and was born in August, 1997 in Riyadh. I have a secondary education level specialized in Shariah studies," he said introducing himself to AlArabiya.Net.
Abu Sin, who has largely stopped his online activities since his arrest, said he lists shooting and drawing as his hobbies and that unproductive free time played a major role in his decisions on social media.
"After having left the hospital where I had foot surgery earlier this year, I was forced to sit immobile at home for long periods of time. That is when I discovered this new app called YouNow," he told AlArabiya.Net.
"During the whole day, I was spending nearly 22 hours at home filled with sadness but those two hours on YouNow creating comedic sketches with people were filled with laughter and happiness," he said.
READ ALSO: Getting to the bottom of the 'Abu Sin' phenomenon in Saudi Arabia
Most of that time was spent chatting with a young Californian girl - Christina Crockett. Neither spoke the other's language (he did not understand English, nor she Arabic) which led to some comedic moments for those watching them.
While most viewers had no problems with Abu Sin's content, some complained of Crockett's revealing clothing. His videos then came to the attention of Riyadh's police and he was arrested, accused of "unethical behavior". They claimed his videos were "enticing" young audiences and inviting "negative attention" from viewers around the world on Saudi Arabia.
"My parents' reaction was natural and normal, as they know who their son really is. As for those viewing me, they might not know me outside of the videos and are quick to pass judgment," he said.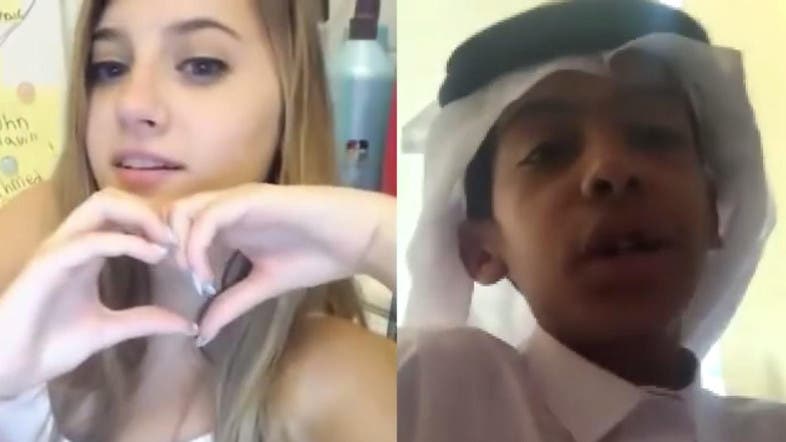 Asked if he would reveal more details of his life, Abu Sin said he prefered some privacy as "some mystery to someone's true character is enticing".
Recent rumors suggested Abu Sin was set to perform during a festival in the Saudi city of Madinah. But the city's officials were quick to quash the rumors saying they were false.
But Abu Sin confirmed exclusively to Al Arabiya that he had been approached by the festival's organizers asking him to perform.
"I was contacted by an organizer who asked my permission to release the posters advertising my appearance and that I was going to be paid for the event. When everything exploded about the news, suddenly the organizers had a change of heart and started denying the rumors. I tried contacting them again on WhatsApp but it appears that they have blocked my number," he said.
*This article also appears on AlArabiya.net.