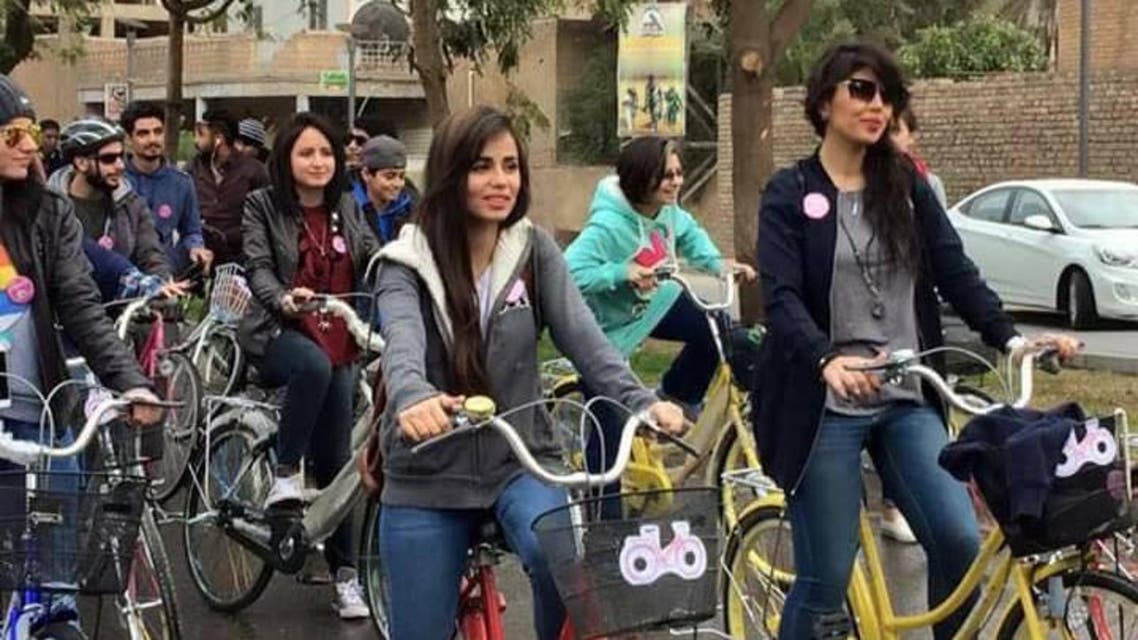 Baghdad woman on bicycle sticks to vow, brings on more female cyclists
Marina Jaber kept her promise when she said Iraqis need to get used to seeing women riding bicycles
A Baghdad woman, who became the face of defiance when she posted pictures of her riding her bicycle by herself in late November in different locations across the Iraqi capital, is no longer alone in breaking the social taboo.
The 25-year-old Marina Jaber, who told Al Arabiya English recently that Iraqis need to get used to seeing women riding bicycles, kept her promise when she brought on more female cyclists on Monday to Baghdad's Abu Nuwas Street.
"Girls and boys asked me to do this gathering of cyclists," Jaber told Al Arabiya English. "It was really spontaneous."
"Some people also offered protection, some offered pins for us to wear," she added.
Asked about other people's reaction, she said the most repeated statement was "Iraq is still fine."
Hearing this "was worth more than anything else," she said. "People are very happy with us."
While there is no legal bar in Iraq for women to cycle and women themselves have indeed participated in rare cycling sport events including in the country's conservative city of Najaf, it is socially not acceptable to see women using their bicycles as a means of transportation or leisure.
Jaber shocked and mesmerized many when she published solo pictures of her riding her bicycle in different locations in Baghdad in order to challenge the social stigma and taboo of women commuting using an eco-friendly means of transport.
Through the new pictures published on the social Facebook page called 'Mn Baghdad' or 'From Baghdad,' Jaber and her friends garnered renewed attention with more than 3,000 likes and 195 shares within one hour on Monday. The page also posted a video of the cyclists, which had more than 5,000 likes and 260 shares.
See video:
While some comments showed support, others derided the move taking place in a country whose parliament recently postponed a session to agree on the 2017 budget in the backdrop of low oil prices and its soldiers battling ISIS militants in the north.
One commentator by the name of Mohammed Raheem criticized the cyclists when he said, "they are understanding intellectualism wrong. Educated people will not put themselves in such a position. We are not the West, we are Iraq, the country of chivalry."
Ahmed Saad, echoed Raheem's sentiment when he said: "Now culturalism is via riding bicycle."
"From where these girls are from, are they married, and how about their families, are they OK with them? Don't they have tribes, uncles or are they from Mars," Qassim Ali asked.
For others like Hussam Jwad, he said: "There is no need to make such noise over girls riding bicycles, what is the different between riding a bicycle and a car."
Others who were in support of Jaber and her friends, like Mays Alreem, said "if we are open minded we would not be discussing a means of transportation."
See photo album: