Cleaner showered with gifts by Saudis after ridiculed for looking at gold
The picture went viral and many Saudi users insisted on buying the cleaner a set of gold
A Bangladeshi cleaner in Saudi Arabia was gifted a gold set after he was ridiculed online when photos of him staring at a jewelry shop display went viral. But presents, including smart phones and rice bags, are still pouring in.
Abdullah Al-Qahtani, a Saudi national who spoke to Al Arabiya News Channel, from the gold market in Riyadh, the country's capital, said he, managed to find the cleaner to give him his gifts.
The cleaner's was identified as Nuzroul Abdulkareem, and his monthly salary was $187 (700 Saudi riyal).
"More money is being sent to Nuzroul," Qahtani said, without specifying how much. In addition to bags of rice and honey, Abdulkareem has so far received "two-way tickets to his home country, and two phones - one iPhone 7 and one Samsung Galaxy."
The story began when a social media user mocked the cleaner by sharing the picture, writing "this man deserves to only look at rubbish."
Saudis on the social media platform tweeted, vowing to send more gifts to the cleaner, including one user who said a gift of $533 (2,000 Saudi riyal) would be given.
"I am very thankful," Abdulkareem said.
Qahtani described him as "very hardworking." "Abdulkareem also takes care of homeless kittens on the street where he works," Qahtani said.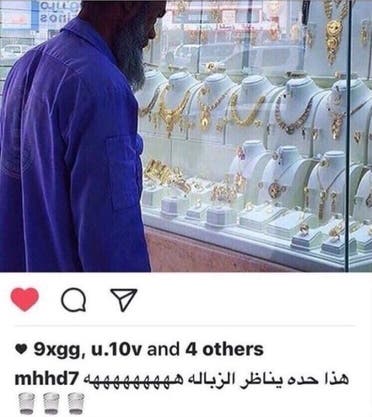 Another user responded, requesting the cleaner's information so he could gift him a gold set.
The picture went viral and many Saudi users insisted on buying the cleaner a set.
An account then published photographs of the cleaner holding the gold.