Mixing cars and rocks... a new Saudi art form
The new hobby – called 'tahjir' in Arabic – has been around for some years now but only recently started making global headlines
There is a new art form involving cars in Saudi Arabia and it has nothing to do with drifting or stunt driving.
This time around, it's 'stoning' – the art of removing a car's wheels and placing large rocks and stones under the vehicle for balance.
The new hobby – called 'tahjir' in Arabic – has been around for some years now but only recently started making headlines around the world with the help of social media.
It can take four to seven hours to raise cars on different sizes of rock platforms, sometimes up to 10 hours.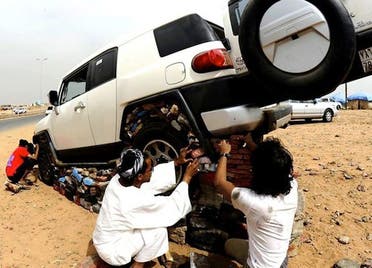 "The tahjir is practiced only in the summer. It is an impressive art form that combines skill with the breath-taking scenic beauty of the region," Saudi visitor Abdullah Al-Harbi told the Saudi Press Agency in 2012.
The hobby is usually done away from the cities in mountainous villages and towns, more often during the winter months to avoid working tirelessly under the heat.
Many on social media have been giving positive feedback of the art form, as it is a less dangerous sport than drifting and stunt driving.