How an Egyptian man found out he was 'dead'
An Egyptian citizen was informed he had died a year ago, after going to renew his identity card
In a peculiar incident, an Egyptian man was informed he had died a year ago, after going to renew his identity card.
Mustafa Abdel Latif Ali Abdulrahman from the Minya province, went to the Civil Status Department to renew his card which had been expired for 7 years, when a staff member denied his application because he was apparently dead.
The man apparently got angry and told the employee he was alive and standing in front of him, and asked how they had managed to declare him dead?
He then demanded the employee show him the death certificate.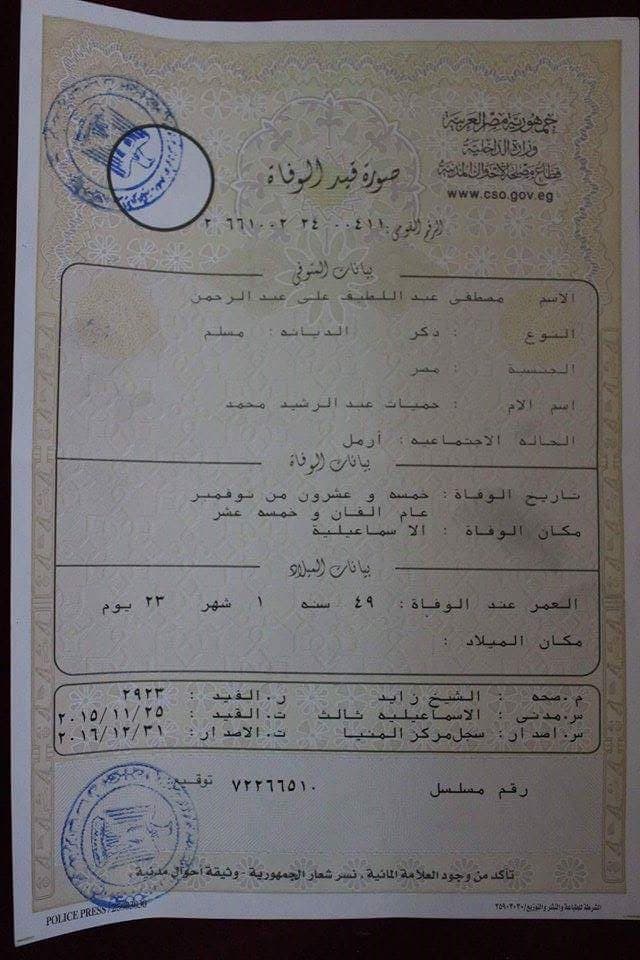 Abdulrahman pinpointed that the date on the death certificate showed November 25, 2015, and that he is a widower, although he is married with five children, and that the death occurred in Ismailia, which he has never visited.
He said he was obliged to contact a human rights center to help prove he was alive, after the employee did not believe him.
He added the responsible government bodies requested he bring evidence to prove that he was who he said he was - Mustafa Abdel Latif Ali Abdul Rahman.
After Abdulrahman succeeded in providing all the required documents, he still received a reply stating: "The Restriction remains as it is, must resort to the judiciary."
He said he was surprised by the response, and does not know what to do.
He stressed that he would go to all those responsible to prove that he is still alive.