Authorities investigate parents of Egypt's 'youngest engaged couple'
The engagement ceremony photos published last week of Zain and his cousin Faridah hit the internet by storm
Despite the denial of the Egyptian four-year-old bride's father to Al Arabiya of her engagement to her seven-year-old cousin, Egyptian authorities have confirmed to media outlets that the father has been sent to an attorney general for questioning.
The engagement ceremony photos published last week of Zain and his cousin Faridah hit the internet by storm and provoked a debate on social media over the controversial practice of arranged marriages of minors.
According to tweets from sources close to the children's family in the al-Qalyubia province, Faridah's father selected his nephew as the future husband for his daughter as an "incentive for excelling academically at school," a decision that apparently received the backing of the family.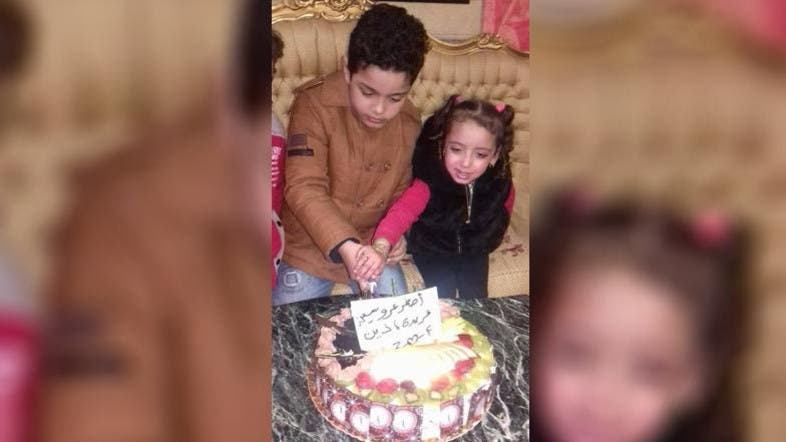 Other pictures of the young boy gifting her gold spread on social media, suggesting that he was presenting the dowry to 4-year old Faridah, prompted the National Council for Motherhood and Childhood to prosecute the two families.
The manager of Egypt's Children Helpline Dr. Mohammad al Nezmi told Al Arabiya that the father said a security forces raided his home, although he denied the news of the engagement of the two.
Dr. Nezmi said the investigation is still ongoing.
Father the young girl Islam Zahra denied to Al Arabiya's presenter any sort of investigation occurred.
"The Egyptian courts have bigger and more important things to focus on than this stupid rumor, and they don't get their information from Facebook,' he said.
Zahra said he spoke to Dr. Mohammed and told him that if there is a law against having parties at home, then he will refrain from doing so.
"We hope this was a joke," Dr. Mohammad added, "even though this is very dangerous, because if someone sees this it becomes normal among societies, and might do the same."
ALSO READ: Outrage as photos emerge of Egyptian children 'engaged to be married'