At 106, Brazilian woman becomes world's oldest fiance
After the meeting in Southern Brazil Oliveira expressed her love to Jacob saying "if he dies, I will die too."
At the ripe old age of 106, a Brazilian has celebrated her engagement with a man 40 years her junior, making her the oldest fiance in the world.
Valdemira Rodrigues de Oliveira fell in love at first sight with Brazilian Aparecido Dias Jacob, whom she met at a retirement home.
The retired fiance believes that love has no certain age.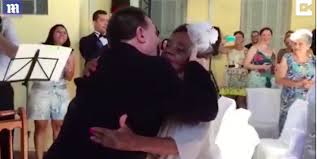 After the meeting in Southern Brazil, Oliveira expressed her love to Jacob saying "if he dies, I will die too."
Volunteers soon organized a ceremony for the two lovers, which was attended by a huge crowd.
"As they couldn't get married we came up with another way to make their dreams come true by holding an engagement ceremony at the retirement home," according to British Newspaper Daily Mail.
Despite the age difference, the two lovers did not give up on their love after they met three years ago.