IN PICTURES: New Zealanders race to rescue stranded whales
More than 650 pilot whales have beached themselves along a 5 kilometer stretch of coastline over two days
A new pod of 240 whales swam aground at a remote New Zealand beach on Saturday just hours after weary volunteers managed to refloat a different group of whales following an earlier mass stranding.
In total, more than 650 pilot whales have beached themselves along a 5 kilometer (3 mile) stretch of coastline over two days on Farewell Spit at the tip of the South Island. About 335 of the whales are dead, 220 remain stranded, and 100 are back at sea.
Department of Conservation Golden Bay Operations Manager Andrew Lamason said they are sure they're dealing with a new pod because they had tagged all the refloated whales from the first group and none of the new group had tags.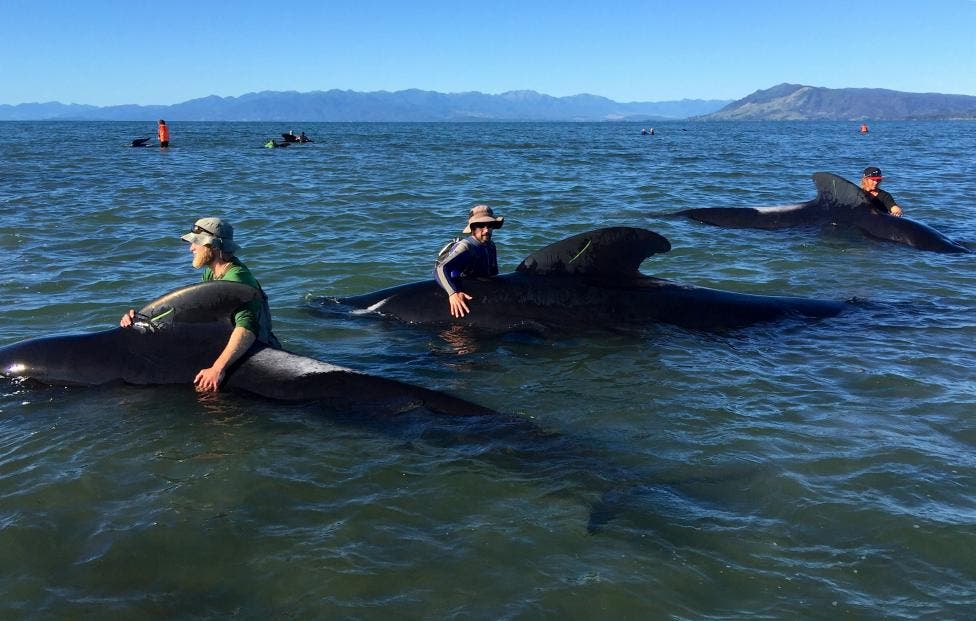 The news was devastating for hundreds of volunteers who had come from around the country to help with the initial group of 416 stranded whales that was found early Friday, many of them already dead.
Volunteers are planning to return Sunday to help refloat as many healthy whales as they can.
Lamason said about 20 of the new group were euthanized by conservation workers because they were in poor condition and more would likely need to be killed Sunday.