At Cairo's downtown square of Talaat Harb lives young Abdulrahaman, accompanied by five stray dogs, whom he says have been "his family" in the past three years.
A video of his story, published Tuesday on VideoYoum7, not only attracted lots of viewers on social media, but also prompted a government response to the boy's situation.
Abdulrahman and the dogs were seen dancing in harmony, as he recalled his ordeal of being a street child and how he found that "dogs are better company more than most humans."

Abdulrahman was forced to sleep rough on the street alongside stray dogs after he and his brother were "kicked out by their father" in a bid to please their step mother.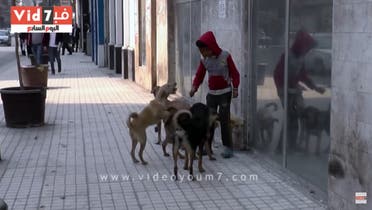 "I only saw my mother in pictures when I was very young," says Abdulrahman, who wishes obtain any clue on her whereabouts if she was alive. He hasn't seen his brother ever since they separated.
Surviving street vulnerabilities on his own, the boy spoke of how he gets beaten at times, and robbed, as he lacks shelter.
He recalled being robbed by a woman who rented him a small room when he first lived off the street.
"I rented a small room from a woman called Shaimaa when I started living on the street. I used to sell tissue papers and clean cars to make a living. But after saving 360 pounds, the women stole my money and kicked me out," he says in the video.
"I'm happier living with dogs, they are better company that most of humans. I get turned away by people at times, who tell me to stay away from them."
He said his cousins and relatives no longer want to see him after he started living on the street.

Despite his misery, he says he cares for dogs, and does not like to see anyone inflict harm on them.
"Every day, when I have breakfast I have to get food for the dogs, and if someone gave me fried chicken, I give the good parts to the dogs, not only leftovers."
"At many times, when I feel tired I sit in my place, no one but the dogs are kind to me."
"I'm happy with my dogs, humans want nothing but money."
More than 800,000 viewers watched the video on Facebook, with some pleading to help the little boy by offering him a place to live, and an opportunity to join school.
After airing the report, the newspaper said Egypt's Ministry of Social Solidarity will send a team to find the boy and offer him care at the ministry's specialized institute for homeless children.
The video – which is in Arabic – can be viewed below.