An Egyptian man named Hamam approached Egyptian President Abdel-Fattah al-Sisi during his visit to Upper Egypt this week and convinced him to grant his town 1,000 acres of land.

Addressing Sisi who was at a gathering while on the tour, Hamam explained he was the only man from the town of Marashdeh, one of the poorest towns in the governorate of Qena, adding that he wanted to present his case.

Sisi replied to Hamam and asked him to go ahead and tell him what he wants.

Hamam thus approached the president and said: "Our poverty does not mean we do not love you but we must tell you the truth of what's happening. I am the only one from Marashdeh here and I must present my problem."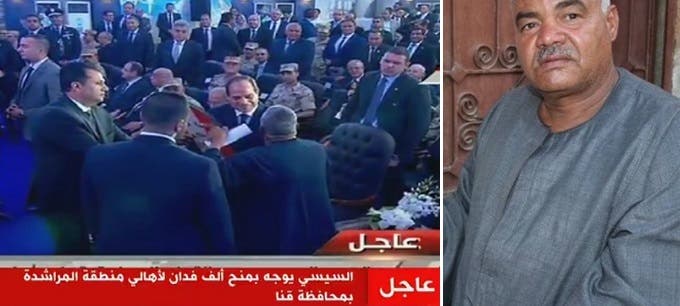 He explained that 30 years ago, he aspired to have just 5 acres of land but he hasn't achieved his dream yet and called on the president to give lands to his townspeople.

"Despite our poverty, we are willing to contribute to repair the lands. God left us this desert which is our treasure but when we grew up, people took it away from us. However, now, a good man is here to give us back our rights in these lands and it's Sisi," Hamam added.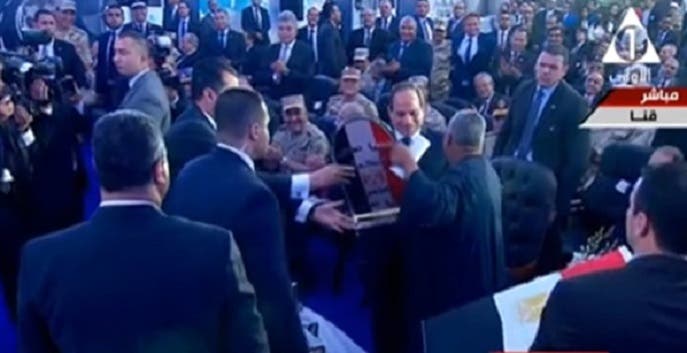 The president thus ordered Kamel al-Wazir, the chairman of the armed forces' engineering authority, to grant Marashdeh 1,000 acres of land as a contribution to the town from the army's budget.

In a short interview with TEN TV Network, Hamam said that he improvised his speech with the president, adding that residents of Marashdeh, who are 35,000, received him with celebrations after he spoke with Sisi on their behalf.