Japan's Ambassador to Iraq, Fumio Iwai, has won the hearts of Iraqis in another video when he was seen sitting cross-legged on the floor and wishing his viewers a happy Eid in fluent Arabic, specifically in the country's vernacular.
"With God's willing, I wish you better health, safety and security for the upcoming Eid," Iwai said, using the customary greeting of wishing for a much-improved year ahead in a video published by Embassy of Japan in Iraq on Facebook Monday.
Iwai's video has so far garnered at least 4,008 shares and 254,381 views.
"I would love to give special greetings to the heroes who were fasting while they were at the battle field or in the displacement camps despite the heat," he continued, in reference to the Iraqi Army's undergoing operation to liberate the northern city of Mosul from ISIS militants in a country that has three million internally displaced people.
Iwai told his Iraqi viewers that he fasted the final three days of Ramadan, making him "hungry and excited" to eat his first Eid breakfast, which constitutes of the twin combo of Kahi and Gaymar, a delicacy usually consumed by Iraqis during the celebration, and Klaycha – the country's national cookie, usually filled with dates.
Kahi is made from layers of pastry soaked in syrup, taken with heavy, thick cream known as Gaymar.
The video has thoroughly charmed Iraqis, with many pouring comments praising the ambassador.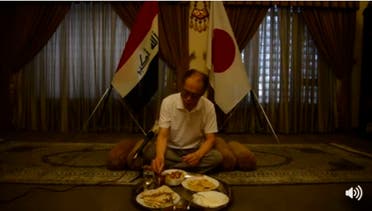 "Why don't you take the Iraqi nationality and get elected via an official party we would call it the Japanese Iraqi Party for Reform," Taha Abu Ragheeb wrote on the Facebook page of the embassy.
With some others liking his comment, saying "I will vote for him."
"Your fasting is equal to all of our parliament's MPs' fasting and prayers," Ali Alnoor said, expressing a prevalent Iraqi sentiment over corruption and lack of proper services people suffer from in the country.
Others hailed his "incredible humanitarian" work in helping the internally displaced and those hit by terrorism attacks.
This is the second charm offensive for Iwai.
On June 12, Iwai appeared in a Facebook video, donning the Iraqi National Football team's jersey while sending his support for two Iraqi football clubs, who were competing in a match qualifying one of them for the Asian Championship.
The video had at least 7,941 shares and 692,000 views.