Last year, Afghanistan's version of "Sesame Street" introduced a little girl character aimed at inspiring girls in the deeply conservative Muslim nation. Now a new muppet is joining the cast: her brother, who will show boys the importance of respecting women.
Zeerak, whose name means "Smart" in Afghanistan's two official languages, is a 4-year-old boy who enjoys studying and learning. He joins 6-year-old sister Zari, whose name means "Shimmering," on Afghanistan's version of the show, "Baghch-e-SimSim," or "Sesame Garden."
Both muppets wear traditional Afghan clothing - the baggy trousers and long embroidered shirt known as a shalwar kameez for him and colorful native dresses and a cream-colored hijab, or headscarf, for her. They join the rest of "Sesame Street's" multi-cultural line-up, which includes muppets specially created for local versions of the program in Bangladesh, Egypt and India.
Massood Sanjer, the head of TOLO TV, which broadcasts the program in Afghanistan, said that after the overwhelmingly positive response to Zari from both parents and children, the goal was to create a boy character to emphasize the importance of gender equality and education in a country where the vast majority of girls don't go to school and the literacy rate for women is among the lowest in the world.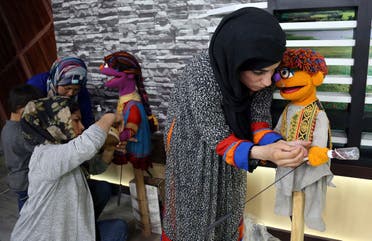 "In a male-dominant country like Afghanistan, I think you have to do some lessons for the males to respect the females. So by bringing a male character to the show who respects a female character, you teach the Afghan men that you have to respect your sister the same way as you do your brother," Sanjer said.
In keeping with that goal, Zeerak proclaimed in a recent episode of the program, "I love Zari so much and as much as I love Zari, I love her friends too."
Both Zari and Zeerak were created in New York and their costumes incorporate fabrics and designs from all of Afghanistan's major ethnic groups to promote inclusiveness in a society racked by decades of conflict.