The remains of a couple, found on a receding glacier in the Swiss Alps 75 years after they had disappeared, were at long last buried on Saturday near their native village.
Their two surviving daughters were present at the funeral service in the church at Saviese in Valais canton, a few kilometres from Chandolin where Marcelin Dumoulin and his wife Francine were living when they disappeared on August 15, 1942.
The funeral was held in the church where the couple had attended mass on the August 15 feast day before setting out on their trek, a priest Jean Varone told the ATS press agency.
Dumoulin, then 40, and his 37-year-old wife had left their home that morning hoping to check on their cattle, which were being kept in an alpine pasture in neighboring Bern canton.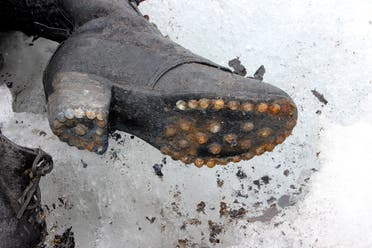 The fastest route at the time was via a glacier footpath. The sky was clear when the couple set out, but clouds later worsened visibility and the couple vanished, likely after falling into a crevasse, orphaning five sons and two daughters.
"I saw them leave that Saturday morning," recalled Monique Gautschy, one of the surviving children who was 11 years old at the time. "They were supposed to spend the night in the alpine pasture at Grilden and come back on Sunday."
After two months of fruitless searching for the couple, the seven children, then aged 2 to 13, were placed in foster care.
After more than seven decades the remains of their parents were discovered on July 13 -- preserved in the Tsanfleuron glacier at an altitude of 2,600 metres (8,500 feet) -- by an employee of a local ski resort.
Backpacks, a watch and other personal belongings had been preserved in the ice nearby.
Gautschy told AFP that police called to inform her of the definitive identification early on Wednesday.
The priest at the Saviese church summed up the feelings at the funeral, saying "three-quarters of a century later the family can at last stop asking the question: 'what happened to them?'