Hezbollah deputy in hot water over sermon on 'divorced and fashionable' women
A speech by Hezbollah's Deputy Secretary General, Naim Qassem, has sparked a major debate in Lebanon after warning 'against dealing with divorced women,' in words that have been considered by many as offensive.
Qassem warned young people during his last sermon that "they would burn in hell if they talked to girls," and passed information about the exploitation of Syrian refugees by European countries.
The speech has caused a major controversy and promoted a hashtag bearing his name that was still trending in Lebanon as of Monday.
Speaking to Al Arabiya News Channel's interactive program, journalist Jad Shahrour said Lebanese citizens were not surprised as they have heard this type of speech before.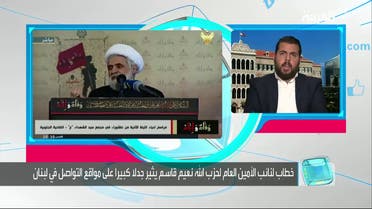 "We have heard this type of hate speech and demeaning views of women, more than once coming from speakers of the same political line," Shahrour told Al Arabiya's Sarah Dundarawy.
He added that such a speech usually provokes a sharp divide on social networking sites between those who are for or against it.
The support usually comes from those who belong to the same political line, mixing up politics with moral and social values that should guarantee equality for any person in the country, whether man or woman, according to Shahrour.
After the spread of the speech on social networking sites, activists, journalists and women's associations, took to the streets in Lebanon to express their rejection of this speech in its entirety.