Doctors in Calcutta have removed 639 nails from a mentally unstable man's stomach in a landmark surgery rekindling memories of how surgeons in Saudi Arabia had retrieved an electric bulb from a man's belly in April leaving the global medical fraternity dumbstruck.

A dramatic video of surgeons pulling out 2 to 2.5 inches long iron nails with the help of a powerful magnet after cutting open the 40-year-old's abdomen.in Calcutta, capital of India's West Bengal state, has gone viral.

"The patient is from Gobardanga in North 24 Parganas bordering Calcutta. He is suffering from schizophrenia and had swallowed nails regularly over a period of time," Dr Siddhartha Biswas, Assistant Professor, Department of Surgery at the Calcutta Medical College and Hospital, told the Press Trust of India news agency.
WATCH: Asian man explains how a lightbulb stayed inside his stomach for 11 years

The nails were discovered when the patient was subjected to an X-ray examination after medicines failed to get rid of his stomach ache. He had stopped eating altogether due to severe abdominal pain compelling doctors to prescribe various tests, including ultrasonography, to get to the root of the problem.

Fortunately, the nails did not inflict internal injuries. Doctors said that he is doubly lucky that he didn't develop sepsis. After investigations, Dr Biswas constituted a team for the surgery, which was mysteriously filmed in the operation theatre resulting in the video which has gone viral.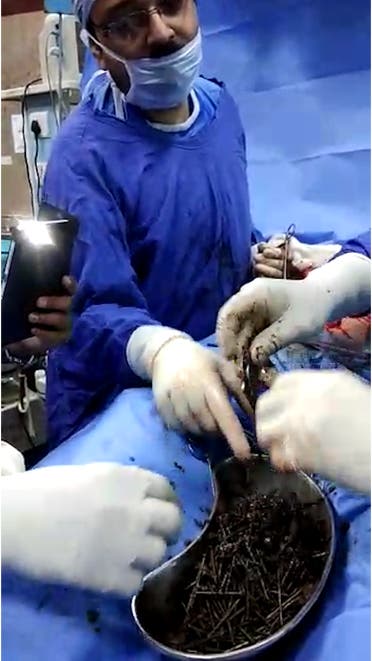 'Tough as nails'
An England trained surgeon told Al Arabiya English that the expression 'tough as nails" has acquired a whole new meaning after the case came to light. "The man who swallowed the nails without suffering injuries is definitely as tough as nails", he remarked with his tongue firmly in his cheek.

According to media reports, a three-month old girl succumbed to sepsis in a Calcutta hospital after she was operated upon to remove seven needles from her stomach. In another jaw-dropping case this year, a cockroach was removed from the skull of a woman in the southern Indian city of Chennai. And the cockroach was alive!
The New Indian Express quoted Dr M. N. Shankar saying: "The cockroach was sitting in the skull base, between the two eyes, close to the brain. If left inside, it would have died before long and the patient would have developed infection which would have spread to the brain."

Intriguingly, in April, doctors in Prince Saud bin Jalawi Hospital in Saudi Arabia's eastern al-Ahsa region found a light bulb in the stomach of a 21-year-old migrant worker. The bulb was found in perfect condition after ten years in the man's intestine.