An Indian man has laid claims to an 800-square-mile strip of land between Egypt and Sudan taking advantage of the fact that this is not a part of any state or country.
Suyash Dixit reportedly found the area called Bir Tawil – meaning "deep well" in Arabic. He undertook a journey from his hometown of Indore, India, to this region and declared himself as the "first king of Dixit".
According to a Daily Mail report, Bir Tawil has remained as "de facto" region, which means no man's land for more than 100 years. Dixit kept his Facebook page updated throughout his journey.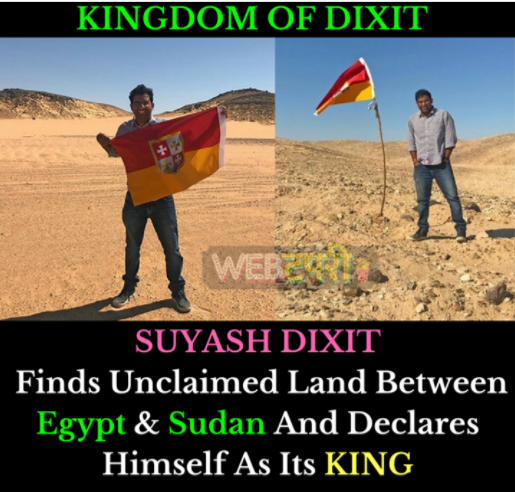 A seed planted
After hours of driving and finally reaching the land, Dixit planted a seed and placed his flag in two different places, to proclaim this is now the Kingdom of Dixit, said the report.
"This is my land now and if they want it back, there will be a war," he said. Boasting about his newfound royal status, he posted on Facebook that Dixit is "opening foreign investments to our country and nationality applications."
He also said he obtained permission from the Egyptian military to travel to the land.