Hollywood star John Travolta held a three-hour talk show on Friday at the Apex Exhibition and Conference Center in Riyadh.
The show is part of the event titled 'A Night with Travolta' organized by the Saudi Entertainment Authority.
Travolta talked about his career and the secrets of Hollywood. Travolta is a multi-talented artist and performer — an actor, singer, writer and producer, who has a rich experience in entertainment and a great career with more than 45 films to his credit. His first film was in 1975.
He is married to actress Kelly Preston and they have three children.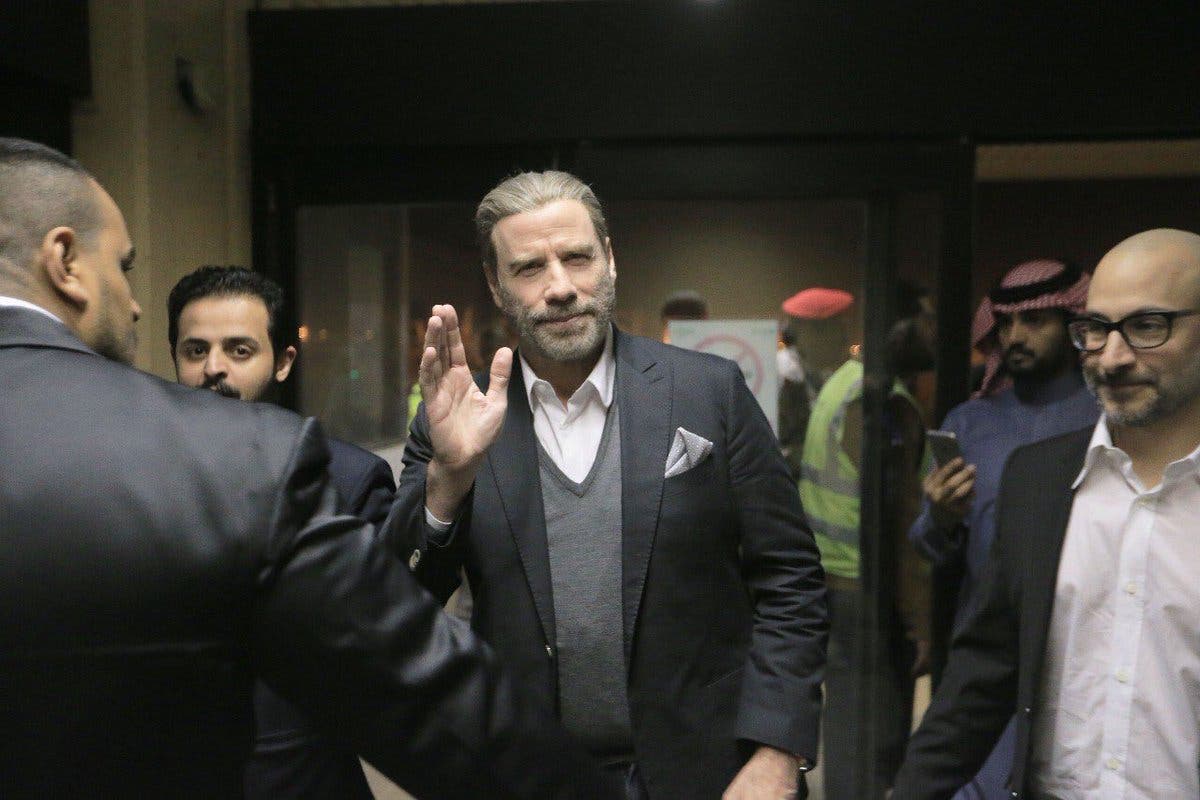 A video clip shows the moment he was received with joy and applause from the public, prompting him to thank the public warmly.
Travolta, who spent two days in the Kingdom, visited the most famous tourist, heritage and entertainment attractions in Riyadh.
It was a Friday Night Fever (a take off on his hit movie Saturday Night Fever) on Twitter as it came alive with Travolta tweets — in English and Arabic — as soon as the Hollywood star arrived at the at King Khalid International Airport.
Muna AbuSulayman (@abusulayman) tweeted: "People so excited about #John Travolta in #Riyadh bcz of excellent film Pulp Fiction & Face Off... and am like, "Welcome back, Kotter" ... Grease is the word, is the word, is the time, is the place, is the motion."
Her feelings were echoed by a CIC Saudi Arabia tweet, (@CIC_Saudi) said "one of a kind evening in Riyadh with @johntravoltahot and exclusive behind the scenes secrets, a meet & greet and more!"
And the excitement was summed up by @YaserAlamoodi's tweet: #John_Travolta in #Riyadh, #Saudi Arabia! Talk about a nie (new) way to set up the stage for the opening of movie theaters in the country next year!"
Also us singer Nelly, is in Saudi Arabia as the Kingdom undergoes a vast "modernization" plan launched by Crown Prince Muhammad Bin Salman, deputy premier and minister of defense.
Travolta arrived in the capital Riyadh for a discussion Friday on "the secrets of Hollywood", and rapper Nelly gave a concert Thursday in Jeddah.
As part of the Crown Prince's modernization drive, the Kingdom has recently organized artistic events and has also announced the forthcoming reopening of previously banned cinemas.
"It's amazing to have your music transcend and be accepted globally, not just by where you come from but also by people who have never met you or seen you before," the 42-year-old Nelly told reporters before his performance.
"This experience is probably bigger for me than it is for you guys, so it feels great to be here." Nelly is a three-time Grammy winner known for such hits as "Hot in Here."