After spending 40 years working at the Abu Dhabi Crown Prince Court, Mohideen Ibrahim was bid farewell by Sheikh Mohammed bin Zayed, Crown Prince of Abu Dhabi and Deputy Supreme Commander of the Armed Forces.
A video shared on Sheikh Mohammed's official Twitter account was retweeted several times on Monday showing the crown prince embracing Ibrahim, and thanking him for his years of hard work.
Moideen, 63, worked in the media office, filing and sorting papers, the National newspaper reported. Sheikh Mohammed described him as a "dedicated and diligent worker".
محمد بن زايد يودع بمزيد من الشكر والتقدير العامل محي الدين بعد ان قضى أكثر من أربعين عاما في ديوان ولي عهد ابوظبي .. كان مثالا للعامل المخلص والمجتهد في أداء عمله pic.twitter.com/Cpo34CcnlD

— محمد بن زايد (@MohamedBinZayed) January 22, 2018
"We have all the respect, appreciation and affection for what they have and still are offering from effort and hard work and sincerity," Sheikh Mohammed said referring to everyone who contributed to the UAE's development and construction.
Ibrahim said that meeting the crown prince was one of the happiest days of his life.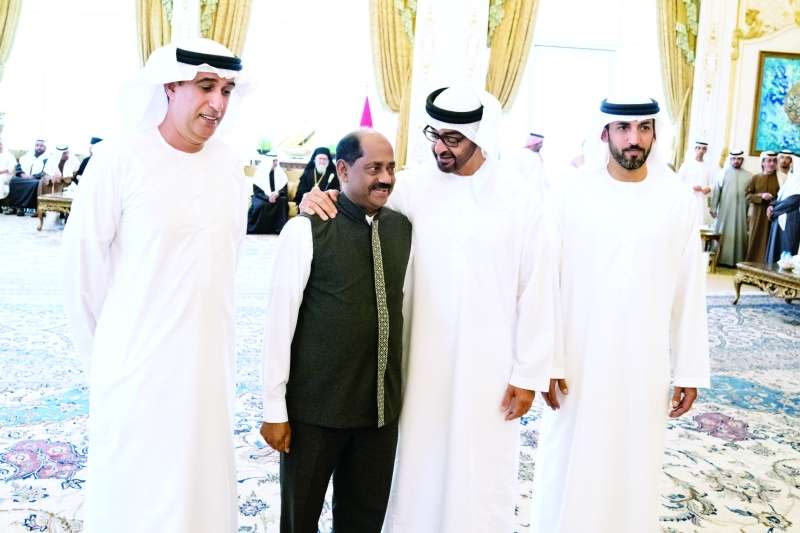 "I have got a lot from this country. I built my home because I worked here. It is very difficult and painful for me to leave this place," the newspaper reported Ibrahim saying.
"He spoke with love. He asked about my family, he asked about my children, what they did. In my life I have not felt as much happiness as I have today," he added.