India's moral police harass couples, get animals 'married' on Valentine's Day
India's so-called "moral police" has been at it again this Valentine's Day, making news for harassing couple's celebrating Valentine's Day and even getting animals married to score a point.
A Times of India report, in Ahmedabad, self-proclaimed "moral police" chased couples in the city. According to the report, members belonging to the Bajrang Dal – a militant group – harassed couples at the city's Sabarmati Riverfront before they were detained.
Lucknow University closed its doors for students after issuing an advisory yesterday that students will not be allowed to roam inside the university premises on Valentine's Day. pic.twitter.com/YPj10K5tuM

— ANI UP (@ANINewsUP) February 14, 2018
The outfit also staged protests against Valentine's Day in Hyderabad, said the report adding that the right-wing group had also taken out a rally and warned couples against visiting public areas, threatening to get them married.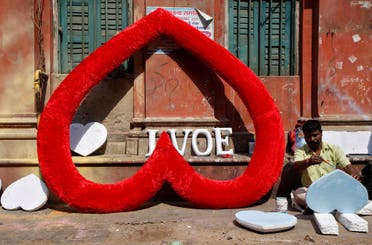 Dog 'marries' monkey
In the South Indian city of Chennai, workers belonging to the Bharat Hindu Front solemnized "marriage" between a dog and a donkey as a mark of protest.
Another group, in Karanatak state's Bengaluru district also decided to get animals "married" - this time, in favor of Valentine's Day, said the report. The Karnataka Rakshana Vedike organized the "marriage" of two sheep and also urged the state government to provide financial support to couples who marry for love.
Earlier, a university in Uttar Pradesh, which is ruled by Modi's party the BJP, had declared February 14 a holiday and barred students from coming to the campus.