While Muslims from around the world make the pilgrimage to Makkah as a demonstration of their submission to the will of God, most of them get there by air in view of the long distance to travel. Some put out to sea while a lot many others, especially those from neighboring countries, travel overland in cars and buses to reach the holiest place on earth for the journey of a lifetime.
However, Hakam Mabruri and his wife Rofingatul Islamiah, both 35, share a passion for adventure. The Indonesian couple arrived in Makkah, pedaling their custom-made bicycle through seven countries and traversing a distance of 12,000 kilometers. The trip took them an entire year.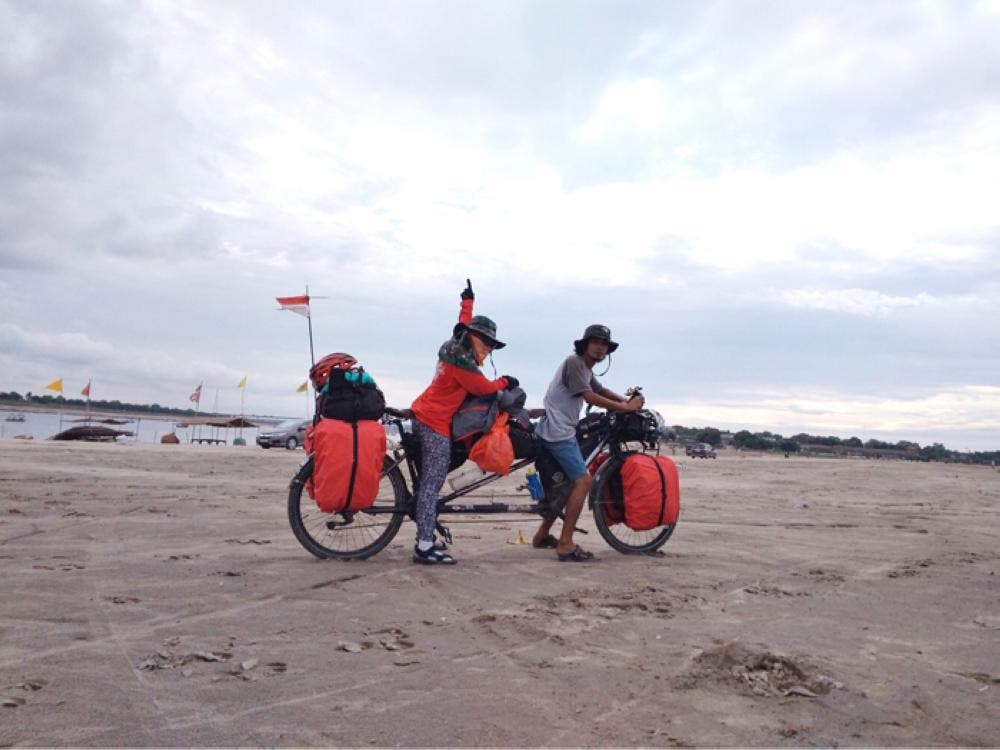 Prior to starting their journey on Dec. 17, 2016, the couple spent one month and a half in their hometown of Malang in East Jawa, making preparations.
The couple themselves designed their dream bicycle and sent the design to a factory. The bicycle required two seats, a luggage carrier and two sets of pedals to power it.
The couple received support from different NGOs and societies that were excited about their cause. Mabruri and Islamiah had decided to use their trip to spread the peaceful message of Islam among the people of other religions they would meet in each of the countries they pass through.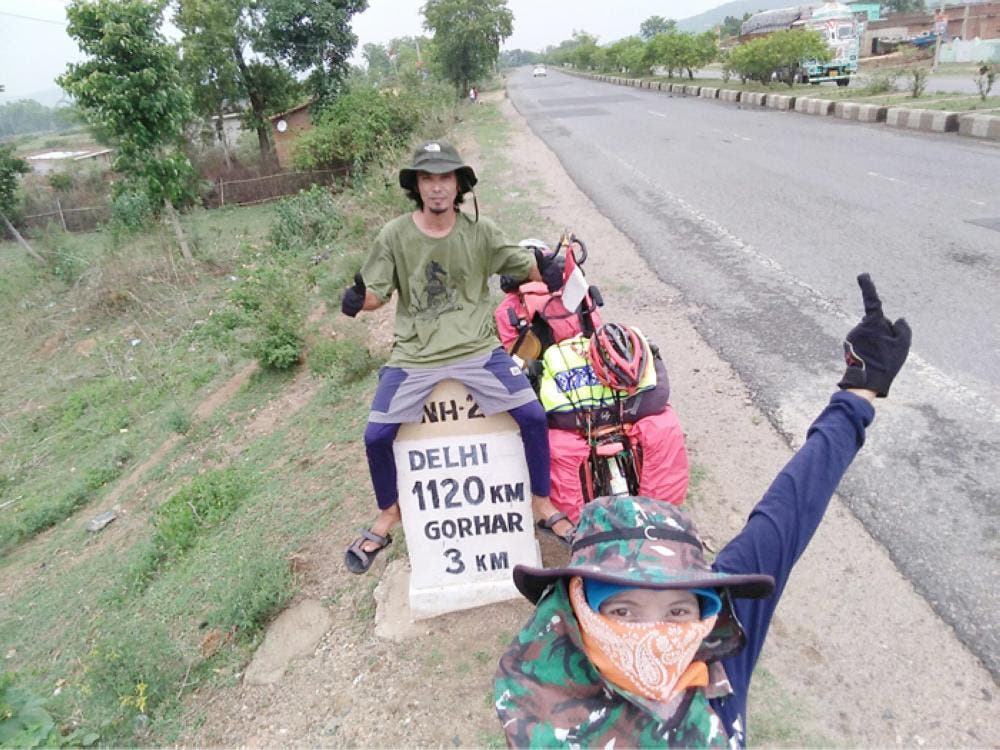 Mabruri said they chose the bicycle for their trip because it symbolized harmony in married life. In order to push the wheel of life forward, man and wife must make many compromises and adjustments.
"The bicycle teaches people how to smoothly navigate through ups and downs in life. To go upward they need to work harder and while going down they need to keep everything under control. This philosophy can be applied to face life's challenges as well," he said.
By choosing to sit in front and leave the back seat for his wife, Mabruri said his aim was to fill the role of an imam, as taught by Islam.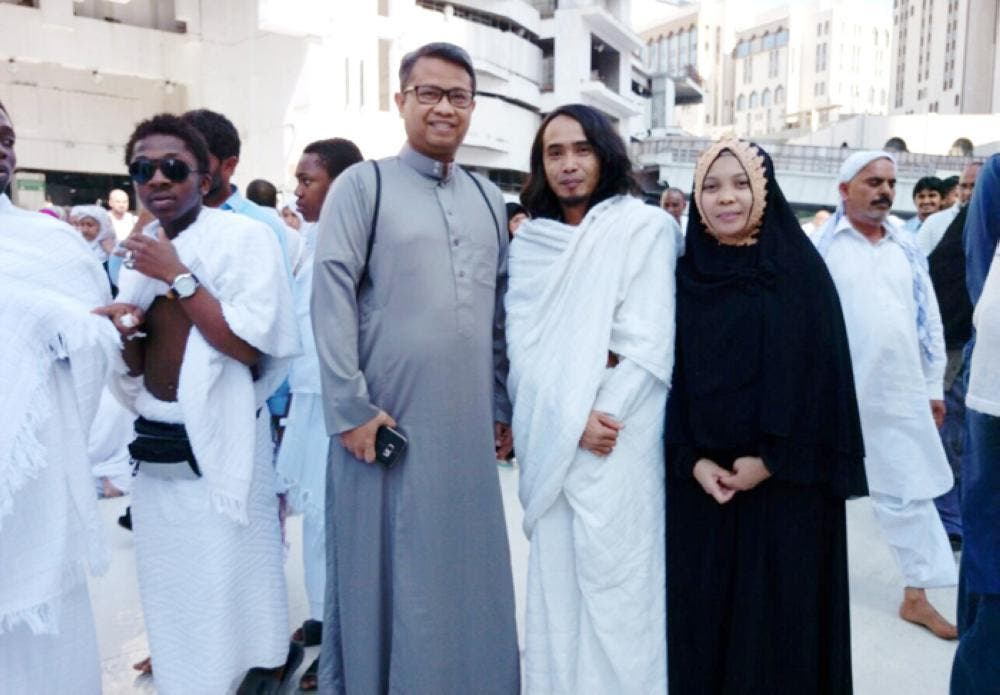 Majoring in agricultural science, Mabruri had married a soon-to-be psychologist. It did not take Mabruri much time to convince his wife about his trip since she had already known him to be an adventurous person who had traveled a lot inside and outside Indonesia.
This time however he decided to offer his wife the chance to join him. And this trip has brought the Mabruri family much more than adventure and fun. The big news is the couple, who have been married for four years, is expecting their first baby in a few months.
Inspired and excited by their adventure trip, the couple wants to name their baby Mukafeh, which means "a striver".
Before embarking on the trip, Mabruri did his homework on the cultures of the peoples they might encounter in countries through which they would travel. He also got trained to help keep the trip on track using GPS technology and Google Maps.
On top of learning bicycle repair skills and cooking, and being exposed to different cultures, Mabruri believes adventures are spiritual journeys that teach individuals how to be patient, entrust everything to Allah, and build a strong relationship with Him.
Mabruri's trip, which started in Indonesia, took him through Malaysia, Thailand, Myanmar and India. To avoid conflict-stricken countries on the route, the couple then decided to travel to Jordan from India and then to Egypt and finally Saudi Arabia.
In many countries, they got the visas issued online and on an average the waiting time was one month. Throughout their travel, the couple used their tent gear for resting, cooked their own meals and purified drinking water using filters. Each time before moving from a rest stop, they would check their bicycle and change the tires and chain if necessary with the help of the locals.
While Mabruri had no problems eating food from different cultures, his wife struggled to adapt in some places, which led her to lose five kilograms in one of the countries they passed through.
Thai food and Arabic shawarma were her favorite, said Islamiah.
Speaking about different peoples they came across during the trip, Mabruri said they found Egyptians in Sinai to be very warm and welcoming.
Despite the initial discomfort on meeting the people of Sinai, yet visitors soon get surprised by their humble and welcoming nature that makes everyone feel at home.
Asked how they communicated with people who spoke different languages, Mabruri said: "We relied on heart to heart talk and the gesture language."
The couple spent most of Ramadan in the Muslim community in the southern region of Thailand and then celebrated Eid Al-Fitr in India. They then traveled to Amman where they celebrated Eid Al-Adha.
In Egypt the couple had their first encounter with a mix of different Arab cultures before their arrival in Madinah.
The pair plans to return home by flight after performing the Umrah. They will make their country proud as the first Indonesian couple to travel to Makkah on a single bicycle.
And if everything goes well, they would get on their bike once again in a few years to pedal the same journey, this time to perform the obligatory Haj.
For now, Mabruri plans his next adventure in New Zealand and Australia after resting for a while in Indonesia.