Egyptian authorities foiled the biggest illegal operation for trafficking crocodile skin in the southern city of Aswan.
According to the Middle East News Agency, the Ministry of Environment 13 pieces of crocodile skin and wild animals of different lengths were seized in one of the old boats in Lake Nasser (north Aswan) ready to be sold.
It was the largest seizure in terms of the number and size of crocodiles caught in violation of environmental law.
'Aswan Reserves' received a report stating that a number of crocodiles were hunted during a hunting trip in Lake Nasser, with the aim of illegal trafficking of their skins, and after coordinating with the police, the perpetrators were detained.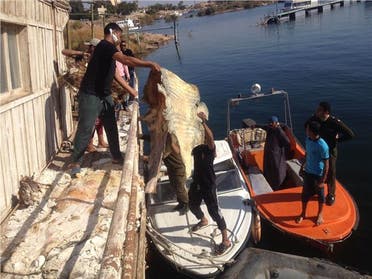 13 pieces of skin from 10 crocodiles, 3 pieces from wild animals (unspecified) of different lengths varying from 2 meters to 4 meters on board of a private boat, and all legal procedures were taken.
In April 2016, the government announced the establishment of a crocodile plantation in the same area for economic exploitation, either through the export of meat or leather, which later becomes expensive shoes and bags.
Despite the protection imposed by the law, small crocodiles can be seen sold in some markets in Egypt, including the Tunisian market in the area of Souq Sayeda Aisha south of Cairo.