Days ahead of US President Donald Trump and North Korean leader Kim Jong Un summit due in Singapore on June12, an Australian comedian who impersonate the North Korean leader and goes by the name Howard X was detained by Singapore authorities on Friday for questioning on his political views before being allowed into the country.
Howard X who refrained from giving his real name said that the authorities detained him for a couple of hours, interrogating him for 30 minutes when he arrived at Changi airport.

He said: "They asked me about my political opinion and if I participated in protests in other countries."
The Australian impersonator added that he was asked to stay away from Sentosa Island and Shangri-La hotel, both are branded as "special areas" for the summit.
Howard X said: "They said (Singapore authorities) it is Trump-Kim summit, you came at a very sensitive time."
He added that after the interrogation he was allowed to enter Singapore.

Singapore's Immigration and Inspection Authorities said that Lee Howard Ho Won arrived at Changi Airport at about 3:30 am on June 8 and was interrogated 45 minutes after his arrival and then allowed into Singapore.
It added in a statement "As part of the immigration clearance process, travelers to Singapore may be subject to additional interviews, screening or both."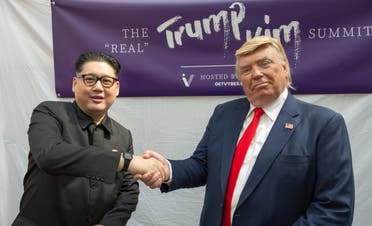 The development comes ahead of Trump-Kim summit expected on Tuesday, which is meant to begin the process of ending North Korea's nuclear program

The Australian impersonator Howard X had visited Singapore at the end of May and impersonated the North Korean leader.
He confirmed that he will hold politically fueled stand up comedies with Dennis Alan who impersonate US president Donald Trump, while in Singapore.
He said he does not plan to stage any protests.
(With Asharq al-Awsat)