The Royal Plaza on Scotts hotel in Singapore joined in on the Trump-Kim summit by giving away 250 mini Trump-Kim burgers in under 25 minutes at noon on Tuesday, with more following at 6pm, according to the Straits Times.
The hotel also added the mini burger on the menu which consists of a minced chicken, seaweed and kimchi patty, served with fries and Korean rice rolls. It is also accompanied by the Summit Iced Tea which is ice tea infused with yuzu (Korean honey).
The item is on the menu till June 15.
"To celebrate the summit and enjoy friendships. After all, Singaporeans love to eat," said general manager Patrick Garcia to Strait Times when asked why the giveaway was held.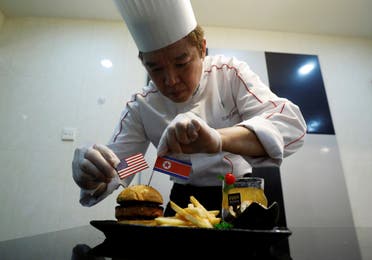 Trump became the first sitting US president to meet with the leader of North Korea where they discussed and negotiated denuclearization which led to Kim Jong Un committing to denuclearize the Korean peninsula.