Images of Iranian President Hassan Rouhani were shared on social media on Friday night showing him watching his country's World Cup game against Morocco.
Offering a rare glimpse of the president without his traditional tunic and turban, the images showed Rouhani watching the game, ecstatic at Iran's own-goal win over the North African side.
Rouhani shared a picture of himself clapping, wearing trousers and the national team's football shirt.
This comes as Iran has faced sweeping criticism against Iranian women being banned from attending football matches.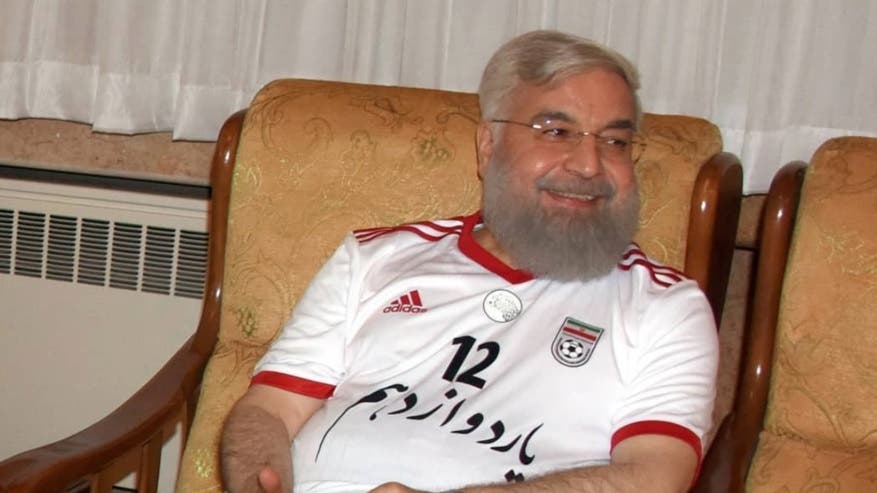 Iranian fans at the national team's first match at the World Cup unfurled a banner protesting Iran's ban on women attending soccer matches back home.
The banner read "#NoBan4Women" and "Support Iranian Women to Attend Stadiums" and it was held aloft during the match against Morocco in the Russian city of St. Petersburg.
After it was initially unfurled, during the first half of the game, there was a brief commotion as it was put away. The reason for the commotion wasn't immediately clear as three stewards moved across to where the banner was, on the bottom row near to one of the goals.
It then remained unfurled for the remainder of the first half.
Since the 1979 Islamic revolution, Iranian women have been banned from attending soccer matches and other male-only sporting events.
A partial exception to the ban on women was made in June 2015 when a small number were allowed to watch volleyball in Tehran.
(With the Associated Press)