White House press secretary Sarah Sanders said she was kicked out of a Virginia restaurant because she works for Trump.
Sanders said in a tweet that the owner of The Red Hen in Lexington, Stephanie Wilkinson, told her to leave. "Her actions say far more about her than about me. I always do my best to treat people, including those I disagree with, respectfully and will continue to do so," she said.
While some praised the owner for taking a stand, others took to social media to criticize her, saying her actions were "disgusting." People have also left negative reviews on the restaurant's Facebook page, condemning the Wilkinson's choice to become political.
The Red Hen owner replied saying, "I have a business, and I want the business to thrive.This feels like the moment in our democracy when people have to make uncomfortable actions and decisions to uphold their morals," she said.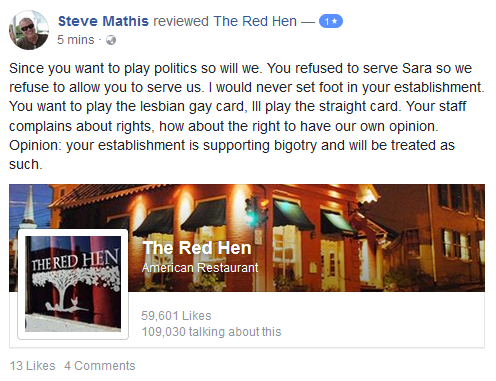 On Friday, a Facebook user claiming to be a waiter at The Red Hen in Lexington, Virginia -- around 70 miles southwest of Charlottesville -- said he served Sanders "for a total of 2 minutes" before she and her party were asked to leave.
His post went viral when musician, activist and former US diplomat Brennan Gilmore uploaded a screenshot to twitter alongside an image of a handwritten note, which read "86 - Sara Huckabee Sanders," supposedly from the restaurant.
To "86" someone is a slang term meaning to refuse to serve a customer.