During his first official visit of a member of the British royal family to the Palestinian territories, Prince William was received warmly in Ramallah where he was serenaded by young musicians and dancers.
Samah Nassar, a member of the Ramallah Municipality, told Al Arabiya English "The Ramallah municipality made sure that it was clear what the city represents from interreligious Christian and Muslim co-existence, and was very keen to evoke the historical, cultural and civilizational symbols of the Palestinian people by taking Prince William to visit the city's old institutions like Ramallah Friends Schools and to see the historical Palestinian embroideries and other arrangements through which we sought to convey a message that we are a living nation with a history rooted in this land wanting freedom to continue to live normally."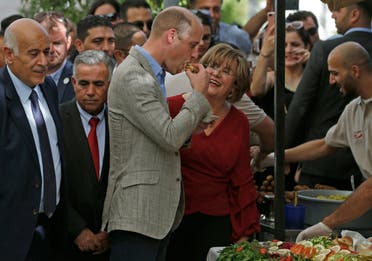 Following the official reception, the prince was taken to a public souk where he took a moment at a Falafel vendor's kiosk to eat a fresh fried piece of the traditional food. He then moved to another kiosk selling the famous Palestinian traditional Safiha (a mini meat pie) unable to resist its fresh smell.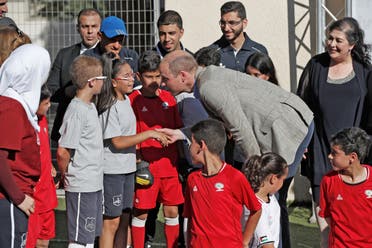 Prince William avoids politics
During his visit, the Duke of Cambridge avoided talking about politics and focused on the culture and the World Cup.
Wadie Awada a local journalist covering the prince's tour in Ramallah said that "the prince refused to answer political questions especially the Palestinian people's demand of an apology issued by the United Kingdom regarding the Balfour Declaration and its catastrophic results on the Palestinian people. He said that he does not represent the government but rather he represents himself and the royal family."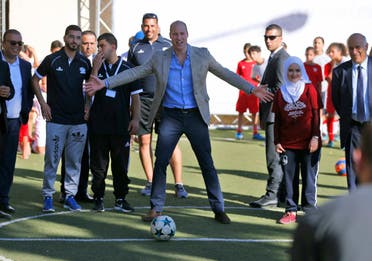 The journalist added that 36-year-old William ended his visit by ordering half a kilogram of the Palestinian Safiha to go.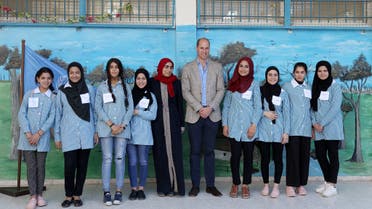 The Duke of Cambridge also visited a Palestinian refugee camp, where he met with young students and told them that he is watching the World Cup, and hopes England will win.