The Guinness World Records has announced that the Crown Prince Camel Festival is the largest camel sports festival in the world. This year's festival featured the participation of a record 11,186 camels that competed in 787 rounds of competition over more than 40 days from Aug. 11 to Sept. 22.
The world record announcement was a new Saudi achievement that came on the weekend leading up to Saudi Arabia's 88th National Day on Sunday.
Prince Fahd bin Jalawi bin Abdulaziz bin Musaed, the president of the Saudi Arabian Camel Federation, accepted the official certificate confirming the festival's accomplishment from Guinness representative Ahmad Jamal al-Din. Prince Abdulaziz Bin Turki al-Faisal, deputy president of the General Sports Authority, also attended the event at the camel racing grounds in Taif.
The festival's key aim is to showcase and boost the camel-racing heritage of the Kingdom and the Gulf Arab countries.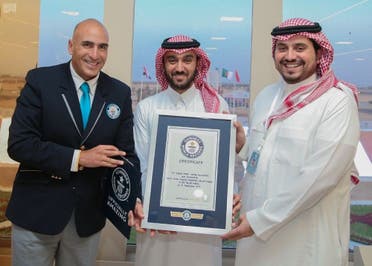 The festival unfolded in four phases, with key races taking place on weekends. There were warm-up rounds, racing rounds, marathon rounds, production rounds and closing-in rounds. Also featured were sports, cultural and entertainment activities alongside educational workshops for camel owners and visitors interested in camel sports.
The global recognition of the festival's record-breaking size coincides with Saudi Arabia's National Day, celebrated on Sep. 23 every year.
The presentation of the Guinness certificate took place just a few hours before the Crown Prince Camel Festival awards ceremony that was attended by Crown Prince Mohammed bin Salman.
In line with the new citation from Guinness, the event's closing ceremony saw a total of $14 million (53 million riyals) awarded to top finishers in the various events. This year's event enjoyed unprecedented participation from the Kingdom of Saudi Arabia, as well as Gulf and Arab countries.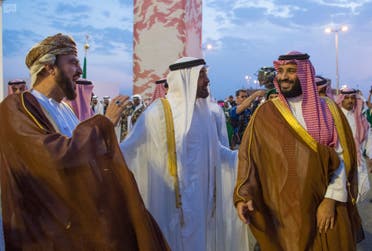 The festival shines light on the camel racing industry. Plans call for developing camel racing in such a way that it corresponds with the Kingdom's status and fulfills the aspirations of its citizens, camel owners and fans of the sport Kingdom-wide.
With its record numbers, this year's event, held under the patronage of the Crown Prince, was largely successful.
The Crown Prince attended the festival's closing ceremony, which was held on Saturday, along with Abu Dhabi's Crown Prince Mohammed bin Zayed Al-Nahyan and Chairman of the Bahraini Olympic Committee Sheikh Nasser bin Hamad Al-Khalifa..