A young Saudi woman has chosen to create art using recycled paper coffee cups to reduce waste disposal.
Artist Hana'a Al-Salmi is used to drinking coffee in those paper cups every morning, at various coffeeshops in the eastern Saudi city of Khobar.
Every time she uses such cups with her friends and family, Salmi collects them in order to use them in her art using recycling materials.
PHOTO GALLERY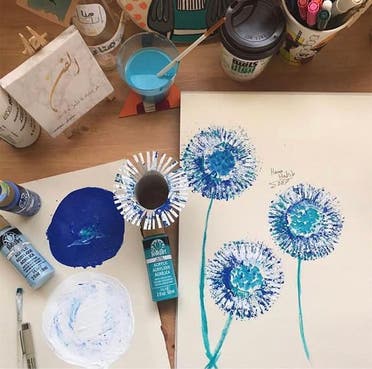 Dozens of cups have been collected by her and used in her abstract drawings which are on display at her home.
In an interview with Al Arabiya English, Al-Salmi says she has always loved colors and drawing since childhood. And was in love with drawing on coffee cups upon finishing from them, she added.
"When I was studying abstract art, I began to provide courses for girls on recycling paper and household waste, since they environmentally friendly, and produces an economic return," she said.
Using these cups, Al-Salmi says: "Each time I try to create a more attractive painting using the cups compared to the previous one. I want to show those around me how to use recyclable household waste aesthetically, economically and educationally."
Every morning, and as she sees people buy coffee their drinks, Al-Salmi thought that she would start an awareness campaign that aims to educate people about the need to protect the environment, given that many get rid of these cups by throwing them in trash or on the roads.