The medical and surgical team in charge of separating Siamese twins Anishia and Melanese has begun the operation on Sunday at 8:00 am at King Abdullah Specialist Children Hospital in the King Abdulaziz Medical City in Riyadh, the Saudi Press Agency reported.
The decision was made after the team attended a meeting on Thursday chaired by the head of the team, advisor at the royal court and general supervisor of the King Salman Humanitarian Aid and Relief Center Dr. Abdullah bin Abdulaziz Al-Rabee'ah. (Meet the Saudi surgeon who separated 42 conjoined twins)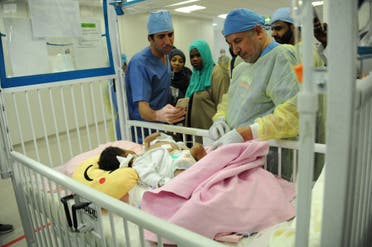 Al-Rabee'ah told SPA that the two female twins are conjoined below the chest, abdomen and pelvis. They each have one leg and share a third leg. They also share the liver, intestinal tract and urinary and genital tract.
He added that after discussing the twin's case, the medical team expects the percentage rate to be 60 percent, noting that the surgery will last around 13.5 hours and it will be carried out via nine phases in which 32 specialists that consist of doctors, surgeons, technicians and nursing cadres will participate.