An operation led by Saudi Dr. Abdullah al-Rabeeah ended successfully in separating conjoined Tanzanian twins Anishia and Melanese at the King Abdullah Specialist Children Hospital in the King Abdulaziz Medical City in Riyadh.
"This humanitarian program has served many countries in the world, and the Kingdom has, thanks to God, recorded the success of Operation No. 47 in the separation program," Rabeeah told Saudi Press Agency.
Speaking to Al Arabiya from the operation room earlier in the day, Rabeeah said that both twins were in stable condition and that medical doctors on their team were optimistic that Anishia and Melanese would have better quality of life after separation.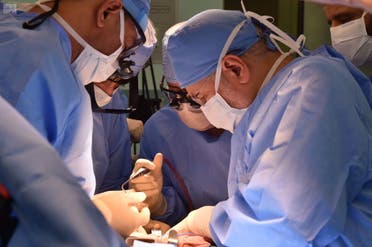 The operation, which took 13 hours to complete, was carried out via nine phases in which 32 specialists that consisted of doctors, surgeons, technicians and nursing cadres will participate.