Armed robbers disguised in face masks depicting football star Mohamed Salah were arrested by Egyptian security forces, according to local media reports.

A security patrol noticed an attempted robbery by the four masked men underway in the Madinat Nasr area in the capital Cairo. They were immediately arrested and had firearms and bolt cutters in their possession, according to the reports.
For all the latest headlines follow our Google News channel online or via the app

Following their arrest, they confessed to forming a gang that specializes in shoplifting by cutting locks and bolts.

This is the first time Mo Salah masks are used for something such as a theft. Salah has become an idol for Egyptians through his football career in addition to his charity work.

He most recently caused a social media buzz in the Middle East when he appeared on a group video call with his daughter to speak to other children about his football journey.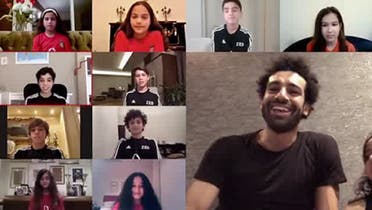 In 2019, Salah was in the media again for showing his compassionate side when he posed for pictures with a young fan who crashed into a lamppost injuring his nose while waving at the football star, according to a Sky News report.
The Egyptian football star made a young Liverpool fan cry tears of joy in 2018 after handing him his jersey following the match won by the Reds 3-0 against Southampton at Anfield.
Read more:
Salah comforts star-struck Liverpool fan who injured nose
Mo Salah's kind gesture leaves young Liverpool fan in tears
WATCH: British envoy to Egypt demonstrates how to pronounce 'Mohamed Salah'