The United Arab Emirates' Mars Hope Probe, the first interplanetary exploration undertaken by an Arab nation, is set to launch into space on July 15, Emirates News Agency (WAM) reported.
The probe will make a 495 million kilometer journey to reach and orbit the planet, WAM said.
The Hope Probe is expected to take off from Japan's Tanegashima Space Centre at exactly 00:51:27 UAE time.
The probe is anticipated to enter Mars' orbit in February 2021, coinciding with the country's golden jubilee celebration that marks the historic union of the emirates.
In preparation for the launch, the Hope Probe is currently undergoing a 50-day process to ensure it is ready for the mission.
The operations are led by a team of Emirati nationals who will be supervising every aspect of the probe until the launch date.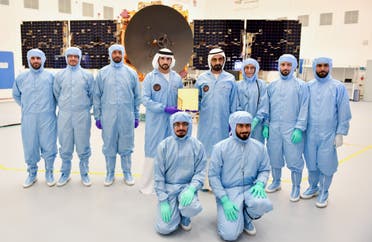 This includes filling the fuel tank with about 700 kilograms of hydrogen fuels, testing communication and control devices, moving the probe to the launch pad, installing the probe on the rocket that will carry it to space, and ensuring the probe batteries are fully charged.
Read more:
Growing date palms and lettuce, UAE's Mars mission to reach another level