Revealed: UAE influencers tops list of top 10 Gulf TikTok followers
Research has revealed the top 10 TikTok users across the Gulf Cooperation Council (GCC) countries.
UAE-based TikTok users took the top three spots, with Jumana Khan (@jumana_khan_), Sarah Milad (@sarahhmiladd), and Ziba Gulley (@xzayx89) having the first, second and third most followers.
The rest of the top 10 was dominated by Saudi Arabian influencers, including Mohammed al-Shamsi (@iimeeto) and Mutlaq al-Sultan (@mutlaq_alsultan).
For all the latest headlines follow our Google News channel online or via the app.
The research, conducted by data analytics and consultancy firm Anavizio, found that many of the top influencers on other platforms, such as Instagram and Facebook, have not made it to the top 10 TikTok list. This includes influencers such as Hudabeauty (@hudabeauty, 2 million followers on TikTok) and Khalid Al Ameri (@khalidandsalama, 1.6 million followers on TikTok).
Unlike Instagram or Facebook, TikTok content is limited to videos of only 60 seconds in length. It is widely popular among teenagers and children.
In a statement, Anavizio said that while the established influencers have already gained followers on TikTok, the list is likely dominated by new names as they have been on TikTok for longer and thus have had a longer time to build an audience.
"These new influencers have generated a high fan following and engagement by embracing the format of the platform, with the majority of their content being focused on music, comedy, dance trends," Fares Ghneim, director at Anavizio, the publisher of the research, said.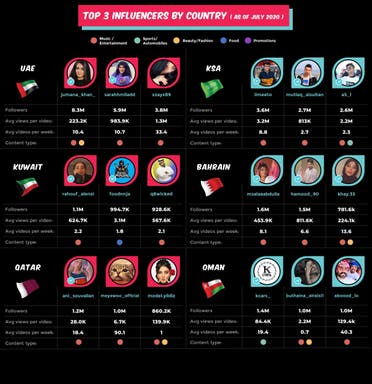 Read more:
US considering banning TikTok, Chinese apps amid security concerns: Pompeo
After India ban on Chinese-owned apps, TikTok distances itself from Beijing
TikTok vanishes from Google, Apple app stores in India after ban