Media outlets associated with Iran's Revolutionary Guards circulated a photoshopped image showing the head of the Guards presiding over a meeting with US President Donald Trump in the Oval Office on Tuesday.
The image showed the head of the Islamic Revolutionary Guard Corps (IRGC) Maj. Gen. Hossein Salami sitting behind the Resolute desk in the oval office, with Trump sat across from him.
The image included a quote from former Iranian supreme leader and the founder of the Islamic Republic Ruhollah Khomeini that read: "Islam will humiliate the superpowers."
Shared by an IRGC-affiliated channel on the Telegram messaging app, the image also included Iranian Foreign Minister Mohammad Javad Zarif, Deputy Foreign Minister Abbas Araghchi, and US Secretary of State Mike Pompeo.
The three diplomats are seen observing the meeting while standing on the side with two Iranian and one US flag behind them.
There has been an increase in anti-Trump content on Iranian outlets since the US killing of IRGC commander Qassem Soleimani in January.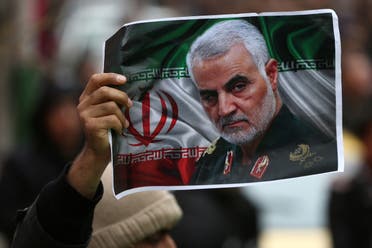 Soleimani, who headed the Quds Force, the overseas arms of the IRGC, was killed in a US airstrike at Baghdad's international airport on January 3.
Last month, the Qassem Soleimani Foundation Twitter account posted, and later deleted, an image showing Trump in crosshairs.
Read more:
'Severe Revenge': New Iranian board game revolves around avenging Soleimani killing
Timeline: Security incidents in Lebanon on the rise as economy worsens
After UAE-Israel deal, Trump nominated for Nobel Peace Prize