Sukuk, coronavirus, stimulus, deficits: How the sharia-compliant bond can help
While the coronavirus pandemic has triggered major uncertainties in markets and everyday life, sharia-compliant bonds, or sukuk, are set for a renaissance once the financial landscape has settled and issuers and investors have readjusted.
Falling oil prices will significantly widen fiscal deficits in sukuk issuing countries like the Gulf Cooperation Council (GCC) countries and Malaysia, which are net oil exporters.
While other sukuk issuers like Indonesia could benefit from lower oil prices as they are net oil importers, the negative effects of lower commodity export prices and reduced tourism revenues caused by the global outbreak will deter growth. The risks to Turkey come mainly through deterioration in global financial conditions; banks face increased risks to their credit profiles.
These developments, among other measures, are expected to accelerate debt issuances to fill the budget deficits, including sukuk.
The market is at a standstill right now. But countries with a good credit story, followed by financial institutions and corporates will lead the renaissance of sukuk, a sharia-compliant bond, while borrowing needs balloon as central banks seek to provide large economic stimulus packages to mitigate the economic fallout of the coronavirus, officially known as COVID-19.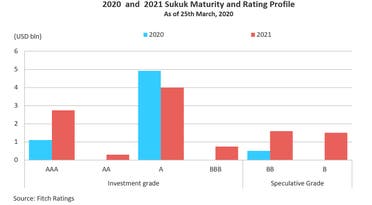 In the latest quarterly Global Economic Outlook (GEO), Fitch Ratings has drastically lowered the baseline global economic forecasts with oil price forecast being lowered to an annual average of $41 per barrel (bbl) of Brent crude for 2020, compared to our previous forecast of $62.5/bbl in December 2019. The move was due to the collapse of OPEC+ co-operation and the prospects of excess global oil supply. Furthermore, oil prices are forecast to average $48/bbl in 2021, compared to our previous forecast of $60/bbl.
Policymakers have been using every tool in their arsenal, both fiscal and monetary, to soften the economic and financial impact of COVID-19 outbreak.
In line with the US Federal Reserve's move to lower its benchmark to near-zero rate, central banks across many sukuk active markets also followed by cutting their interest rates. Many central banks of oil-exporting countries have launched stimulus packages and instructed banks to grant grace periods on loan repayments for private sector firms.
During the first two months of 2020, the sukuk market witnessed strong market activity; however, at present, new international sukuk issuance is almost at a standstill. With many of the usual issuing jurisdictions facing an unprecedented combination of challenges, including health issues, reduced oil revenues, economic disruption, severe financial market dislocation and changes in liquidity and investor sentiment.
These developments are negatively impacting new sukuk issuances (and bonds). Active sukuk issuers and investors continue to evade new issuance in the international fixed income markets, major volatilities include interest rates, oil prices, credit-spreads, currency valuation, that are affecting sukuk investment and issuing decisions.
Additionally, about $18 billion of Fitch-rated sukuk will be due in 2020 and 2021, 79 percent of which being investment grade and 21 percent speculative grade.
For the corporate sector, sukuk issuance in key Islamic finance markets, have been historically small relative to its potential, with Malaysia being the exception (but with local sukuk issuance rather than international).
International sukuk and bonds markets, together with the domestic markets, provide the additional access necessary to safeguard that capital flows, although it is one component in the funding mix (which includes equity, bank loans, syndicated loans, and other forms of borrowing).
Banks continue to be the primary source of funding for corporates in the GCC due to a number of factors, including financial and economic regulations, and the size and development of the domestic corporate base.
Banks are primarily funded by deposits from customers and the government rather than capital markets and we do not expect this to change at least in the short term. However, recent developments could trigger sizable corporate sukuk issuances in the medium term, as corporates try to seek alternative forms of long-term funding, due to pressured liquidity and challenging operating environment.
Once the coronavirus crisis starts to settle, the opportunity for sukuk over the horizon is still positive.
Read more:
Coronavirus threatens modern life, biggest shock in 'nearly a century': McKinsey
OPEC, Saudi Arabia, Russia: Anatomy of an oil price war and a broken alliance