Why attempts at compromise on judicial overhaul are set to fail
On Monday (Feb 20) the first tranche of the Israeli government's legislative programme to drastically reduce the power of the High Court of Justice passed its first reading in the Knesset (parliament). After weeks of mass protests in cities across the country, and six hours of stormy debate, lawmakers finally gave the go ahead for two new laws. These would give the government a majority on the committee that selects judges; and would ban the High Court from reviewing so-called Basic Laws, the fundamental legislation in the country, which has no written constitution.
For all the latest headlines follow our Google News channel online or via the app.
Despite the demonstrations, and warnings from political, security and business figures in Israel - as well as from foreign governments including the US and, unprecedentedly, from American Jewish organisations - that these and other moves to end the High Court's power to review legislation would undermine Israeli democracy, the government has pledged to press ahead with its programme.
Other draft laws now in the pipeline would prevent the High Court from challenging any law without the agreement of all its 15 judges. Another would allow the government to simply re-legislate any law the court does succeed in striking down with simple majority of 61 in the 120-member Knesset.
Justice Yariv Levin has said he hopes that all the judicial reforms will become law inside six weeks. But, after Monday's vote, Prime Minister Netanyahu suddenly changed tack. He put out a video in which he called on opposition parties to meet to discuss a compromise on the judicial reforms. Many outside the ruling coalition, including President Herzog, have publicly supported the idea of reforming the powers of the High Court, but not neutering it all together. But opposition figures like former Prime Minster Yair Lapid, distrustful of Netanyahu, have so far refused to engage in dialogue unless the government pauses its legislation.
Even if Netanyahu is sincere in his offer to discuss compromises to his government's legislative programme, he is reliant on a coalition of right-wing and religious parties to stay in power. And, between them, these parties could prevent any watering down of the proposed changes. Each one has its own red lines and has said it is prepared to bring down the coalition government if Netanyahu oversteps them. Individually, these parties may be happy that some of the proposed legislation be dropped but taken together their red lines combine to stop this from happening. For example, the conservative Likud and Religious Zionism parties insist on the government having control of selection of judges, while the priority for the orthodox religious parties is to have the power to override decisions of the court, which they may oppose.
Collectively then, the right-wing parties which Netanyahu stitched together into a governing coalition have the power to stop him from making any compromise on the legal programme, even if he is sincere in seeking to do so. The whole judicial overhaul process is starting to look like a runaway train, which neither the prime minster, opposition or president has the power to stop.
Fresh violence threatens US-brokered de-escalation deal
A daytime arrest launched by a special undercover Israeli police unit in Nablus on Wednesday (Feb 22) triggered fierce gun battles in the city, which left 11 Palestinians dead. Six of those killed were members of the Lions' Den armed group. And it was a member of this organisation, accused of involvement in the killing of an Israeli soldier last October, who was the target of the raid.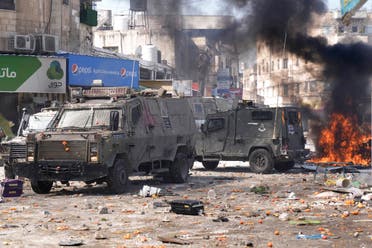 With at least three civilians also reportedly among those killed, and over 100 other people injured, condemnation of the Israeli action was swift in coming from Arab states, including Saudi Arabia and the UAE, but also from the US. State Department spokesperson Ned Price said that the administration was "deeply concerned" that the impact of the raid could set back efforts "aimed at restoring calm for both Israelis and Palestinians." Such concern appeared to be well founded when, the next day, six rockets were fired into southern Israel from Gaza, most likely by Hamas or Islamic Jihad, in apparent revenge for the raid. Israel subsequently launched air raids on Hamas targets in Gaza in response to the rocket fire.
This latest upsurge in violence comes only three days after US diplomatic efforts at easing tensions on the West Bank appeared to bear fruit. Several senior Biden administration figures, including CIA Director Bill Burns and Secretary of State Anthony Blinken, have visited Jerusalem and Ramallah in recent weeks in an attempt to stop the violence, that has left 60 Palestinians dead since the start of the year, and over a dozen Israelis killed in terrorist attacks.
Finally last week, bowing to US pressure, the Palestinian Authority (PA) agreed to withdraw a draft resolution in the UN Security Council condemning Israeli policy in the West Bank and agreeing instead to non-binding Security Council statement. The PA also agreed to an American plan to boost the PA security presence in northern West Bank towns like Nablus and Jenin to prevent deadly clashes between Palestinian fighters and Israeli forces. Israel in turn agreed to reduce military incursions into these areas and to refrain from authorising additional settlement homes for several months.
The US is clearly concerned that this de-escalation agreement it managed to hammer out between Israel and the PA could unravel if the Nablus raid sparks a new upsurge of violence in the West Bank and Gaza.
Is Israel rebalancing its relations with Ukraine?
The visit by Israeli Foreign Minister Eli Cohen to Ukraine last week was the first by an Israeli minister since the Russian invasion a year ago. Cohen's visit was accompanied by a promise to provide Ukraine with a "smart early warning system" against Russian attacks. This marks a significant change in the position of Israel, which has thus far provided only humanitarian aid to Ukraine. Israel has refrained from supplying weapons or military equipment, citing the need to maintain its relationship with Russia to allow Israeli planes to carry out attacks on Iranian and Hezbollah targets in Syria, whose air space is under de-facto Russian control.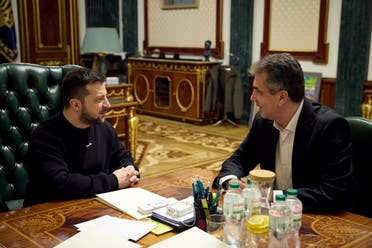 The combination of pressure from the US to do more to help Ukraine and fears of the burgeoning military alliance between Russia and Israel's arch enemy Iran appear to be factors behind this change in Israeli policy. Iranian made drones are being used by Russia in Ukraine and Israel fears Iranian proxy militias like Hezbollah could eventually use such battle-tested systems against it. Reports that a newly revealed Iranian underground air base is being prepared to house Russian SU 35 fighter jets will only increase Israeli anxiety over this military cooperation.
Two senior Israeli politicians, one from the ruling Likud party and one from the opposition National Unity group, visited Kyiv on Tuesday (Feb 21) where they called for Israeli to do more to support Ukraine, including military assistance. The government has shown it is willing to provide air defence systems. But the need to refrain from alienating Russia and endangering the cooperation agreement over Syria, will likely stop Israel from sending Ukraine lethal military hardware.
Read more:
China calls for Russia-Ukraine cease-fire, peace talks