Coronavirus
Coronavirus lockdown: Can we save lives and protect the economy during COVID-19?
The coronavirus lockdowns have become a highly polarizing issue. Some believe that there is a clear trade-off between the health benefits of lockdowns (lives) and the well-being of the economy (livelihoods), and that we should be highly reluctant to use lockdowns. Others think that the only way for the economy to operate is for people to feel safe, meaning that there is no tradeoff at all, and that lockdowns should be embraced due to their effectiveness. Where does the truth lie?
Visit our dedicated coronavirus site here for all the latest updates.
On principle, scientifically resolving this controversy should be straightforward: Since countries and cities have differed widely in the start date, end date, and strictness of their lockdowns, data on pre- and post-lockdown deaths and economic activity should indicate whether lives and livelihoods are conflicting or aligned goals.
For example, Sweden did not impose a lockdown, whereas Denmark did. If Sweden has a better economy and higher deaths, that suggests the existence of a tradeoff. If Denmark has lower deaths and a better economy, that suggests no tradeoff.
Read more:
Did Sweden follow the right coronavirus strategy? Former Prime Minister comments
Lockdowns may have saved 59,000 lives in Europe, says UK research study
Coronavirus: Reopening Denmark schools did not worsen outbreak, data shows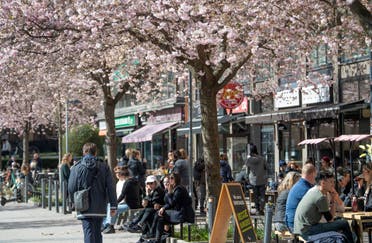 Unfortunately, several factors prevent us from making such simple comparisons. The first is that, in a world of easily accessible media, people will unilaterally social distance independently of any government mandated lockdowns. Moreover, unless the government deploys heavy-handed tactics, people might unilaterally defy lockdowns, for example because they are fed up with sitting at home. This makes it much harder to statistically isolate the impact of the lockdown itself, since people outside a lockdown might be behaving as if they are in a lockdown, and people in a lockdown might be behaving as if they are not.
Second, in an interconnected global economy, it is almost impossible for a small geographical unit, such as a small country, to thrive economically when others are suffering from COVID-19, even if it manages to completely eradicate the disease within its own boundaries. It is one of the reasons why the Swedish economy is suffering a sharp contraction despite not imposing a lockdown, as its economy is highly dependent on global trade.
Read more: Coronavirus second wave: World Government Summit discusses COVID-19 response
These two factors contribute to the fact that the world saw mixed results on the trade-off between lockdown and economic contraction.
Italy for example, implemented a lockdown, but still witnessed economic damage. The country saw a death rate of 570 per million and a forecast 13 percent gross domestic product contraction. In Brazil, no lockdown was implemented, but the death toll was high with 260 deaths per million, and their economy is forecast to contract by 9.1 percent. Some countries implemented lockdowns, have a low death toll and their economies were weakly affected. In Australia, there were only 4 deaths per million, and the country's GDP is expected to contract by 5 percent. In South Korea, no lockdown was implemented, and the country had a low death rate with 6 deaths per million, and a weakly-affected economy, with a forecast of a 1.2 percent GDP contraction. Evidently, there is no obvious relationship between lockdowns, deaths, and economic activity.
These two structural factors that complicate statistical inference are complemented by a series of semantic and political considerations. First, the traditional health taxonomy with healthy at one end, suffering but alive in the middle, and died from coronavirus at the other end of the spectrum is rejected by some as being too crude. This system fails to account for the mental health problems associated with social distancing and similar health issues stemming from lost jobs.
This broader conception of health is critical to understanding the Swedish approach.
Read more: Coronavirus risk still high, pandemic far from over, cautions Germany's Merkel
Second, government lockdown decisions, and the efficacy of their implementation, are in some cases related to the broader competence of the government, making it more difficult to isolate the role of the lockdown itself. For example, Germany's government has been highly efficient in all areas, including the use of contact tracing software, and ensuring that its medical facilities are well-supplied with the necessary equipment, and all of these factors played a role in its superior health and economic performance when compared to the UK.
Third, many people have strong vested interests in advancing a certain view. Those who are suffering massive commercial losses, such as the aviation sector, are understandably sympathetic to the view that there is a trade-off between lives and livelihoods. Meanwhile, experts who publicly took a strong position at the start of the crisis, either affirming or rejecting the need for lockdowns, are keen to save face by selectively analyzing and presenting data that supports their worldview.
In the special case of the US, this issue has become politicized, with many ordinary Republican voters viewing the lockdowns as attempts to sow panic and undermine the economy during the run-up to a presidential election, and many ordinary Democrats relishing the opportunity to expose the government's mismanagement of the crisis. The media are exacerbating the polarization: CNN shows data on COVID-19 cases to argue that the lockdowns have been lifted too early; while Fox shows data on COVID-19 deaths to show that we are past the worst. Consequently, even generic measures such as wearing a mask have become politicized.
What are we to make of the evidence? The unsatisfying but sensible conclusion is that we need to gather more data, a sentiment once expressed by French playwright Moliere when he noted that: "Trees that are slow to grow bear the best fruit."
It is a maxim that many talking heads on TV and Twitter would do well to observe.
Read more: Does coronavirus prove women make better leaders? Ask Finland, Iceland or New Zealand
__________________________
Omar Al-Ubaydli (@omareconomics) is a researcher at Derasat, Bahrain.