Every time I look at this picture, I am surprised, as though this picture was not taken in North Yemen, as though the people in it were not Yemenis… I edge my face closer still to the computer screen and gaze into the black-and-white photo of a group of students from Sana'a University, the first university in North Yemen. The photo was taken in 1970 with male and female students standing side by side and smiling for the camera.
The odd thing in this photo is the female students. They are wearing ordinary clothes, Charleston pants with long overcoats and no black. Where is the aba? They are not veiled, how can this be? Is this really the Sana'a University?
Yemen as it once was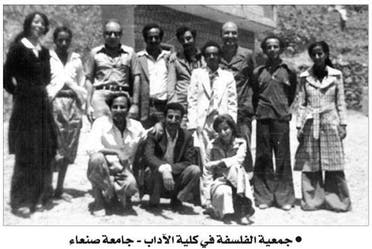 Let us take a short trip back in time. Women in North Yemen wore the Turkish cloth, a garment composed of two pieces, one worn over the head and the other like a long and broad skirt, and both were black. Countrywomen wore beautiful traditional Yemeni garments and colors that differed according to each region. I am here referring to North Yemen rather than South Yemen, which was greatly influenced by the British colonial rule.
Extremism and sectarian intolerance rose. Yemen changed as extremist Islamist institutes were established to teach a new generation that opted for death even before getting to know life.
Hind Aleryani
Following the 1962 revolution and the arrival of Egyptian culture, North Yemen changed. Women recount the arrival of the first batch of "women's socks made in Egypt." Girls-only schools were established for the first time. One sees old pictures from that period, especially those of women in Taiz where the first school was established, and cannot help but be surprised as it would be hard to find anyone dressed like that nowadays. One is surprised by how easily society back then adapted to such change.
Even arts and literature were at their best with inventive people shining in many fields, such as poetry, singing and literature…There was even a cinema! We had a movie theater in Taiz. Women went to the movies to watch Egyptian and Indian productions in a women-only section. Society was completely different against a backdrop of a burgeoning social change and cultural renaissance.
There was a major U.S. hospital in Jibla. Doctors chose this city because its residents were known for their kindness and their acceptance of strangers. Other hospitals opened afterwards but this one remained the most advanced of them due to the experience of the foreign doctors working in it.
The end of the renaissance
Yet this all changed towards the end of the 1980s when Salafist sheikhs who had studied in neighboring countries brought along with them extremist thinking that was totally foreign to the Yemeni people's centrist thinking. Those sheikhs burned the movie house and threw acid at women to burn their legs. They also set fire to the Queen Arwa al-Sulayhi Mosque. Queen Arwa was the first Yemeni woman to have ruled in the post-Islam period (under the Sulayhi State) and she chose the city of Jibla as the seat of her rule. She intended the mosque, which was named after her, as a beacon of knowledge for everyone who wished to learn. Since she was buried in that same mosque, extremists partly destroyed it, arguing that the presence of her sepulture within the mosque is "heresy." This mosque had been around for centuries and none of our revered religious scholars had thought of burning or destroying it. Still, the extremists did destroy it and the state later rebuilt it. They did not even spare the U.S. hospital and killed two of the U.S. doctors in it under the pretext that they were guilty of proselytism even though city natives who knew the doctors denied such charges.
And so arts and creativity died. Women were clad in black, even in the countryside. Extremism and sectarian intolerance rose. Yemen changed as extremist Islamist institutes were established to teach a new generation that opted for death even before getting to know life.
Meanwhile, I still gaze at this picture and wonder: Is it possible to go back in time?
_________
Hind Aleryani is a Yemeni activist and working as a journalist at NOW Lebanon. She can be found on Twitter @HindAleryani.