EU foreign ministers agreed, at their meeting in Brussels on Monday, to proscribe Hezbollah's military wing. Politically and symbolically, this is a significant development, but the critical question is whether a listing will actually make any difference to the activities of the organization in Europe.
The answer is a straightforward "No." Only a designation of Hezbollah in its entirety – including both military and political wings – will stop the terrorist activities of this group in Europe.]
Arguably, a designation of the military wing might even be welcomed by the "Party of God" - it means that the EU, for now, will not prevent it from continuing with its political activities in Europe. It is critical to note that while Europe makes a distinction between the different "wings," Hezbollah itself does not. Deputy Secretary General Naim Qassem reiterated this in October 2012, when he said "[…] we don't have a military wing and a political one; we don't have Hezbollah on the one hand and the resistance party on the other …"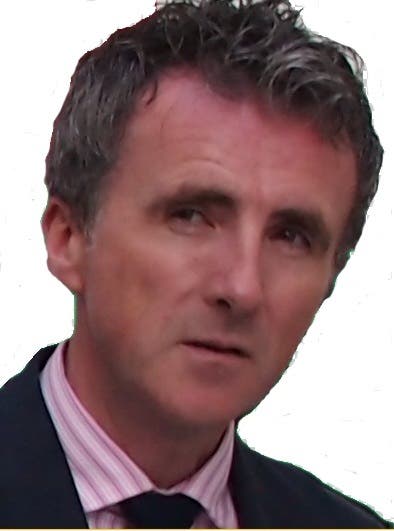 One thing is clear: despite the foreign ministers' decision, Hezbollah will continue to do what it has done well for many years – skilfully dissemble and obfuscate by maintaining its extra-legal activities in Europe under the guise of its political work.
With that in mind, what is ostensibly the rationale for designation - that the EU will not tolerate terrorist attacks on its soil – rings hollow.
High-stakes gamble
Hezbollah has been playing a high-stakes political game in Europe and its fortunes may be on the wane. The Bulgarian authorities, working closely with Europol, have identified the organization as responsible for the Burgas airport bombing that killed five Israelis and their Bulgarian bus driver in July 2012. A Cypriot court convicted a Swedish Lebanese citizen, Hossam Taleb Yaacoub, arrested days before the Burgas bombing, on charges of planning attacks against Israeli tourists, in March 2013.
In addition, Hezbollah's role in supporting Syria's President Bashar al-Assad's forces against the opposition, prolonging the intractable civil war there, has stiffened the resolve of EU governments to blacklist the organization. Its recent foray into Syria has also raised a fundamental question; why would Hezbollah risk so much by involving itself in that conflict, potentially squandering its political capital with the EU? A one-word answer suffices: Iran. Hezbollah's ideological and financial paymaster is fighting tooth and nail to keep its only Arab ally in the region. If drafting one thousand Hezbollah loyalists to fight alongside the regime is what is needed, that is a price the organization appears to be willing to pay.
No stranger to terrorism
Hezbollah has left a trail of destruction in its wake on European soil that precedes last year's bombing in Bulgaria. The group is directly responsible for some of the most egregious terror attacks in Europe, including a 1984 bombing in Spain that killed 18 and injured 83; a wave of bombings in France between 1985 and 1986, which killed 13 and left hundreds more injured and the 1985 hijacking of TWA flight 847 in Greece.
In addition, it was responsible for the 1983 barracks bombing in Beirut that killed 58 French paratroopers and 241 U.S. marines as well as the 1994 bombing of the Jewish Centre in Buenos Aires that killed 85 people and injured 150 others.
The evidence is clear and irrefutable - the EU needs to proscribe Hezbollah in its entirety, as have Bahrain, Canada, Israel, The Netherlands and the U.S. So, is designating the "military wing" such a good idea after all?
The 'do we/don't we designate' argument
In the run-up to the decision, some EU member states were holding out against designation arguing that it is insufficient to ban just the military wing. The two arms of Hezbollah are, they argue, indistinguishable so what was the point in designating just one? Others feared that if the EU went ahead with a decision to proscribe the military wing this would prevent any broader move to list the entire organization as a terrorist entity – which they believe should be the EU's ultimate objective.
Giving the partial designation some teeth
The EU must ensure effective implementation and enforcement of the measures agreed though the foreign ministers' decision will not stop the activities of the organization in Europe. The EU does have an historic opportunity however, to make the designation something significantly more substantive: national governments should monitor closely the fundraising activities of the hundreds of Hezbollah charities that operate in different European countries. They should set in place conditions that, if evidence emerges the political wing is complicit in organising terrorist acts in conjunction with the military wing, the case for a designation of the organization in its entirety would be re-opened.
The EU has a variety of comprehensive tracking and tracing mechanisms for monitoring funding sources – this is an opportunity to apply these in relation to Hezbollah funds, raised by its charities in Europe.
EU foreign ministers will assess the impact of their decision in six months' time. In the meanwhile, we would urge them to monitor closely the fundraising activities in Europe of Hezbollah's political wing and include that as part of their assessment. This would be one way of giving the partial designation some teeth.

____________
Roberta Bonazzi is Executive Director of the European Foundation for Democracy. She has long-standing experience as an EU public affairs practitioner. After having worked for some of the major public affairs agencies in Brussels, she founded the European Foundation for Democracy. She works on a broad range of issues relating to foreign relations, democratic reforms, violent radicalisation and terrorism. Fluent in English, Italian, French and German, Roberta holds a degree in Political Sciences and International Relations from the University of Milan and a post graduate degree from the Institute for International Studies.

John Duhig is Senior Counsel at the European Foundation for Democracy. He has extensive experience in EU governmental affairs and commercial consulting, having worked for many years at both the European and national levels. He began his career at the European Commission, working on human rights, good governance and democratic institution building, where he spent three years. He subsequently spent over a decade at two of Brussels' leading government relations commercial consulting firms. John holds a BA in History from NUI Galway in Ireland, as well as an MPhil in International Politics from the Free University of Brussels.