Turkish government unity lost as cracks deepen
Gul could sabotage the government at any time if Erdogan fails to meet the expectations of his oldest political ally
The Turkish government has lost its entire legitimacy in the West and observers question when the government of Prime Minister Recep Tayyip Erdogan might come to an end so that we can save what is left for the Turkish democracy.
It has shown some cracks this week as President Abdullah Gül publicly confronted Erdoğan, who is ambitiously seeking to become a president after August elections. Gül, whom Erdoğan wants to be a ceremonial prime minister in the upcoming period, said he is not considering getting back to active politics in "today's conditions." It was an illustration of the first publicly expressed discord within the ruling elite.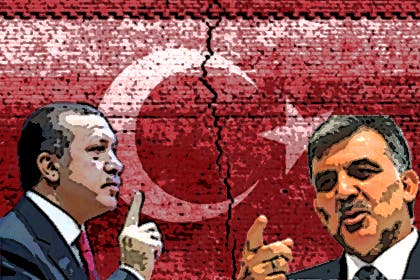 In this tumultuous period, rocked by corruption and bribery allegations, the Turkish president has done little to infuriate Erdoğan despite his moves to crush dissent. Gül signed every anti-democratic bill into law to avoid alienating AKP voters. For his political ambitions, he refused to extinguish the fire Erdoğan started in the country.
Dark times for Turkish democracy
The past four months have been especially fatal for the democracy in Turkey. Thousands of members of the police and judiciary were removed from their posts and were reassigned to less influential positions in a bid to prevent any type of operation against officials or pro-government businessmen.
Gül, whom Erdoğan wants to be a ceremonial prime minister in the upcoming period, said he is not considering getting back to active politics in "today's conditions." It was an illustration of the first publicly expressed discord within the ruling elite.
Mahir Zeynalov
The ruling party dominated rubber-stamp parliament also recently adopted a law that basically puts the judiciary under the government's tight control. In addition, the infamous government-sponsored bill on the internet was passed from parliament in February, implementing tighter online restrictions such as shutting down web-sites without a court order.
The AKP government's worst law was passed this week, granting wide powers to a spy agency that has been at the heart of Erdoğan's anti-democratic policies. The prime minister has always used the intelligence organization to spy on his opponents and to silence critics. Everyone has already accepted the fact that their phones are tapped and emails are scanned.
With the new law on intelligence, the spy agency will be able to make demands about issuing visas or deporting foreigners, tap phones without a court order, conduct operations in foreign countries, seize public assets without any payment, and sentence media workers who published whistleblower information to upwards of 12 years in prison.
Public institutions are always vulnerable to exploitation by corrupt officials, but members of the spy agency were put above the law. Only after the prime minister's permission, the intelligence agents could be tried.
Gul's political ambition
During these dark times, President Gül, who is known to be much more democratic leader than Erdoğan, has done little to prevent the prime minister from burying the Turkish democracy. Although he has only ceremonial power, he could veto some of the controversial laws passed in the parliament in a show of defiance against the government's anti-democratic moves.
Gül knew that Erdoğan would turn against him -- using abusive language -- to defame his political career he built in the past quarter century if the president publicly confronted him. Rallying against Erdoğan would have also proved costly for the president as he would lose his traditional support base.
With his poor record in the past five months, Gül would not want to leave politics with a black stain on his political career after signing non-democratic bills into law. He wants to return to active politics, lead the ruling party he founded with Erdoğan and save the government's democratic achievements in the past decade, which the prime minister is hell-bent on destroying.
Gül's biggest enemy is Erdoğan's workaholic character. In his recent statements, Erdoğan said he will be a "sweating president" and that he will use every power the president has to rule the nation.
If he is elected as a prime minister, Gül would only be a symbolic prime minister and that Erdoğan would run the country in a de facto semi-presidential system. Although the president has limited powers, Erdoğan believes those elected by people are also given an authority to do whatever they want.
Gül's remarks that he would quit politics in these conditions is a "political threat" aimed at forcing Erdoğan to either agree to one-term ceremonial presidency or risk fragmentation of his party without Gül's leadership.
Fate of the government
The confrontation is not a simple Gül-Erdoğan spat. It is fueled by anti-Gül forces around Erdoğan, led by the prime minister's chief political adviser Yalçın Akdoğan, who initially wanted to purge Gül in the upcoming period but later had to cave in the face of corruption allegations.
If Erdoğan doesn't avoid limiting his ambition for more power, he will face a considerably widening chasm within the ruling elite. With presidential elections slated for August 10, the crack within the government will widen if the prime minister fails to delicately handle it.
Backed by several ministers, dozens of senior public officials and nearly a hundred lawmakers, Gül could sabotage the government at any time if Erdoğan fails to meet the expectations of his oldest political ally.

-----------------
Mahir Zeynalov is a journalist with Turkish English-language daily Today's Zaman. He is also the managing editor of the Caucasus International magazine. You can follow him on Twitter @MahirZeynalov