In Jordan, ISIS hits a wall... for now
All eyes were on Jordan last week as the Islamic State of Iraq and Syria made a run at the Hashemite Kingdom
All eyes were on Jordan last week as the Islamic State of Iraq and Syria (ISIS) made a run at the Hashemite Kingdom. There were concerns that ISIS' momentum, plus sleeper cells and admirers of the terrorist group in eastern Jordan, would help to create a back door for the fighters to slip into the country. That plan by ISIS seemed to have failed for several reasons.
Fears were raised when rare pictures of several dozen alleged ISIS supporters were circulated widely on social media and news outlets, including the Washington Post. One picture showed the supporters holding aloft a sign reading "Order of the Islamic State in Iraq and the Levant-Maan, Jordan- Victory for the Islamic State-22 Shaaban (June) 1435 (2014)," Importantly, Jordanian tribes are loyal to King Abdullah II. Indeed there are sleepers in Zarqa and Maan, but in the past these individuals have been tracked, detained, released, and now living their lives according to Jordanian sources. But they are still being watched and monitored and hence sleepers or supporters of ISIS are being mitigated.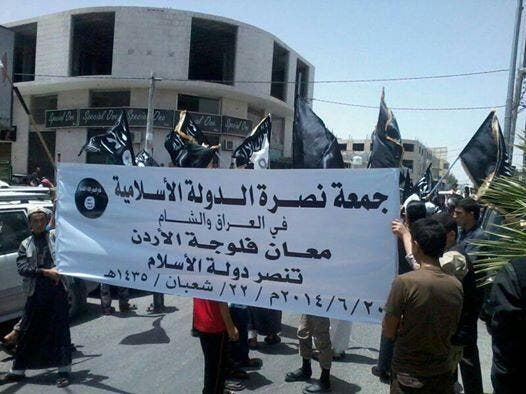 Maan has a long history of problems with tribes and their networks. As we know, there were major uprisings in Maan during the 1990s and that Salafists are arriving in Maan from other parts of Jordan and Saudi Arabia on a regular basis. This city is seen as a springboard to the Kingdom and Jordan's role is to act as "gatekeeper." If the Jordanian government strikes Maan, it is to stop an attack on the Saudi Kingdom. And that is exactly what happened last week when troops apparently went in to settle down the situation. According to a Jordanian official, ISIS attempted to enter Saudi Arabia at Araar. A good marker of any problems in Jordan between Iraq, Saudi Arabia and Syria is to watch Maan: the city is a barometer for tribal and jihadist activity.
Repelling ISIS
Second, the Jordanian military and special operation forces were able to repel ISIS by entering Iraq and attacking the terrorist group's forward advance. The Jordanian army can act on its own to protect the state. Over the past week, over one hundred Jordanian special operators were in Iraq and in the Ajoun and Northern Jordan Hills watching ISIS's forward advancement. Jordanian SOF interrupted ISIS's advances with pinpoint strikes without the assistance of CENTCOM Forward or the SOCOM base in Zarqa according to a Jordanian official. These operations were carried out by the Jordanian military acting on its own without the King's approval since their mandate allows them to protect the Hashemite Kingdom at any cost.
Jordan is engaging Chechen leaders in Grozny to work together to capture and detain Chechen and other North Caucasians fighting on ISIS' behalf
Dr. Theodore Karasik
Third, Jordan is preparing to launch a counter narrative campaign against ISIS by employing two powerful clerics. Abu Muhammad al-Maqdisi, also known as Isam Mohammad Taher al-Barqawi, was released from a Jordanian prison two weeks ago. Al-Maqdisi's teachings and writings helped inspire Abu Musab al-Zarqawi, who led al-Qaeda in Iraq during the height of the Iraq war and who pledged allegiance to Osama bin Laden in 2004. Al-Zarqawi, of course, was the leader of al-Qaeda Iraq which is now directly linked to the emergence of ISIS and its leader, al-Baghdadi. The other significant cleric is Abu Qatada, whose real name is Omar Othman. Previously in the UK, the British sent him to Jordan to stand trial for terrorism acts in Jordan. But his acquittal is seen as a way to free him to serve the Hashemite Kingdom. During the trial, Abu Qatada reportedly spoke out about the conflict in Syria, urging the two main jihadist factions there - the al-Nusra and ISIS - to unite behind the leader of al-Qaeda, Ayman al-Zawahiri. Both of these men will need to be watched carefully by all for what they say next to counter ISIS' discourse. Others are likely to be part of the information campaign.
Engaging Chechen leaders
Finally, Jordan is engaging Chechen leaders in Grozny to work together to capture and detain Chechen and other North Caucasians fighting on ISIS' behalf. Jordanian King Abdullah II went to Chechnya two weeks ago to discuss counter-terrorism issues with Chechen President Ramzan Kadyrov. The two men appeared together at anti-terrorist exercises for Chechnya's Ministry of Internal Affairs and Russian Federation Ministry of Internal Affairs troops provided a good example of Amman-Grozny interests. According to a Jordanian official, an agreement was reached that the Hashemite Kingdom would invest in Chechnya's infrastructure in exchange for information and data on Chechens tied to ISIS and other groups in the Syrian battle space. The agreement also included details regarding the capture of these North Caucasian citizens and potentially sending them back to Chechnya proper for prosecution. It is important to remember that Jordan's Force 71 is comprised of descendants of Chechens who migrated to the Levant in the 19th and 20th centuries. These forces are actively part of Jordan's current and future anti-ISIS campaign.
Overall, Jordan dodged a bullet for now thanks to Amman's military and special operations forces. The Hashemite Kingdom is also preparing for the next attempted attacks by enlisting clerics and asking for assistance from others, including Chechnya. Importantly, Israel is providing overhead imagery to Jordan to use in its fight against ISIS on its borders. But new developments mean that Jordan is not out of ISIS' sights yet: Reports are circulating that parts of al-Nusra have declared bayat, or allegiance, to ISIS. This development means that ISIS' ranks could grow to over 30,000 members. In addition, ISIS appears to be targeting Lebanon in order to create a sectarian battle in the Eastern Mediterranean state. This "gang" seeks to run rampant to destabilize current governments and capture more territory and physical assets plus infrastructure to build their nascent caliphate. Jordan is not out of danger yet but seems to a have a good plan in place.
__________________________
Dr. Theodore Karasik is the Director of Research and Consultancy at the Institute for Near East and Gulf Military Analysis (INEGMA) in Dubai, UAE. He is also a Lecturer at University of Wollongong Dubai. Dr. Karasik received his Ph.D in History from the University of California Los Angles.