Bin Laden is dead, Long Live al-Baghdadi
Baghdadi is the new version of Bin Laden: a model for the religious failure in the Sunni community
The emergence of an ISIS leader has rekindled fears as it appears that one man has finally come to save the group from diverging into different directions, especially with it being a group based on symbolism, history and religion. Abu Bakr al-Baghdadi emerged, ending al-Qaeda's infertility that lasted for three years after failing to find a successor to its slain leader, Osama bin Laden.
The time and place of this emergence raises questions about what this group is, who controls it, and who was able to break into it. ISIS suddenly emerged in Syria, at a time when the collapse of Assad's regime seemed definite. The emergence of ISIS saved the Syrian regime by threatening the world with an alternative terrorist regime that would replace Assad's and by fighting against the armed opposition.
The same scenario happened in Iraq. Nouri al-Maliki, who is the closest to Iran, was on the verge of ending his term as prime minister, especially that Sunni, Shiite and Kurds leaders unanimously refused to renew his term. Suddenly again, ISIS emerged. It seized Mosul, the second largest and most heavily guarded city. And so, Maliki was brought back to the forefront, imposing himself as the needed leader to face the Sunni terrorists.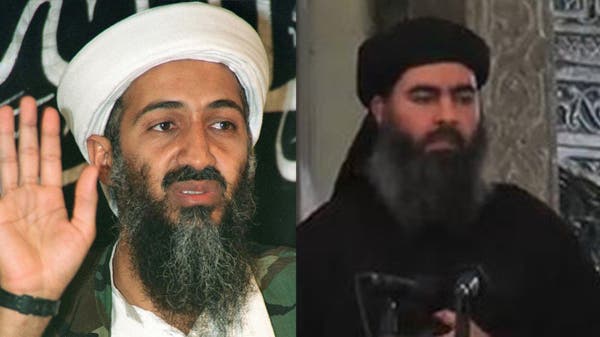 Instead of ISIS fighting its obvious opponents, Assad and al-Maliki, the group mobilized its men towards the northern borders of Saudi Arabia with Iraq. It has also waged a battle on the southern borders between Saudi Arabia and Yemen.
Baghdadi is the new version of Bin Laden: a model for the religious failure in the Sunni community, which was unable to stop extremism and find a cultural alternative
Abdulrahman al-Rashed
Bin Laden is dead, Baghdadi lives on! He acts as his predecessor acted, and avoids what his predecessor avoided. Iran was the enemy in their religious propaganda, and was secretly their ally. It was home for some al-Qaeda cells since the nineties, led by Egyptian fundamentalist Saif al-Adel. After al-Qaeda's escape from Afghanistan, Iran has become a refuge for many more cells. Bin Laden sent half of his children and one of his wives to Iran, and after his death, they were handed over to Syria and then to Saudi Arabia. There are still a huge number of al-Qaeda's Saudi and Arab leaders and soldiers in Iran. Al-Qaeda has never targeted Iran, despite its ideology and incitement against Shiites!
A model of religious failure
Baghdadi is the new version of Bin Laden: a model for the religious failure in the Sunni community, which was unable to stop extremism and find a cultural alternative. ISIS emerges from dark cellars. Intelligence agencies in the region broke into ISIS and directed it in line with their political projects that are unrelated to the organization's mission. Almost all of al-Qaeda's fighters who entered Iraq after the occupation of U.S. troops, sneaked across the Syrian border.
A new war is looming on the horizon, and it may last for a decade or even two, who knows?
This article was first published in Asharq al-Awsat on July 6, 2014.
___________________
Abdulrahman al-Rashed is the General Manager of Al Arabiya News Channel. A veteran and internationally acclaimed journalist, he is a former editor-in-chief of the London-based leading Arab daily Asharq al-Awsat, where he still regularly writes a political column. He has also served as the editor of Asharq al-Awsat's sister publication, al-Majalla. Throughout his career, Rashed has interviewed several world leaders, with his articles garnering worldwide recognition, and he has successfully led Al Arabiya to the highly regarded, thriving and influential position it is in today.