U.S. President Barack Obama's visit to Saudi Arabia is important for reasons that are unlikely to make news headlines. Media coverage will focus on shared U.S.-Saudi security concerns, such as Islamic State of Iraq and Syria (ISIS) militants and recent developments in Yemen, as well as key differences on issues such as the Iran nuclear negotiations. However, the real story shaping U.S.-Saudi relations will be whether the delegation is able to lay the groundwork for continuity in trade and investment between the two countries.
Saudi Arabia is historically among the most lucrative investment destinations for American multinational companies (MNCs) operating in the Middle East. MNCs count on Saudi sales to make up a large percentage of total sales in the Middle East and Africa. In FSG's Frontier Market Sentiment Index, which measures corporate sentiment towards frontier markets, Saudi Arabia is one of the six most tracked countries in the world.
There are good reasons for the strong corporate focus on the Saudi market. The economy is nearly double the size of the UAE, which is the next largest market in the Middle East. Saudi public spending is two and a half times higher than any other market in the Middle East and North Africa and GDP per capita is in the top five among emerging markets globally. Critically, low debt levels and foreign exchange reserves exceeding U.S.$730 billion insulate the economy from significant damage despite the 50 percent drop in oil prices since June 2014. As a result, senior executives across sectors will rely on Saudi Arabia in 2015 and beyond.
Saudi Arabia is historically among the most lucrative investment destinations for American multinational companies (MNCs) operating in the Middle East.
Matthew Spivack
To continue to benefit from the attractive Saudi market, the U.S. delegation's visit must demonstrate that the U.S. is willing to work with Saudi Arabia on strategic priorities across a broad spectrum of issues. Beyond oil policy and regional security, the bilateral relationship can be strengthened with U.S. support on issues related to Saudi Arabia's top domestic concern: achieving sustainable growth. The Saudi economy is far too dependent on oil revenue (which accounts for 90 percent of government revenue) despite billions of dollars earmarked for economic diversification projects. Demographic realities (two-thirds of the population is under 30-years-old and youth unemployment is at least 30 percent) create an urgency for restructuring the economy quickly to boost employment over the next 5-10 years.
American companies can play a prominent role in supporting Saudi efforts to diversify the economy and create jobs. While growth is stagnating in many other emerging markets, the Saudi government is moving forward with projects worth billions of dollars in education, healthcare, housing, and transportation. U.S. companies seeking to capture these huge opportunities need to focus on localizing their Saudi operations. MNCs must do more to transfer knowledge and experience to local partners, build skills of local employees and integrate technology that will assist in the development of a knowledge economy.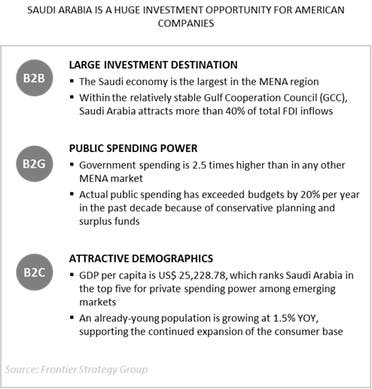 A failure to build on recent advances in U.S.-Saudi relations would be a lost opportunity for both countries, but it would not preclude U.S. investment in Saudi Arabia. Strong business ties have proven resilient to highs and lows in U.S.-Saudi relations in the past and it is unlikely to be any different now. However, there are more serious ramifications if the delegation does not demonstrate a desire to strengthen U.S.-Saudi ties by making sure that both countries benefit from increased commercial cooperation. This could result in U.S. companies losing a competitive edge in the long term.
Saudi Arabia is already a significant recipient of Chinese foreign investment, receiving more than one-third of China's FDI inflows destined for Arab countries since 2005. Companies from China, as well as India and Turkey, are seeking to rapidly expand their presence in Saudi Arabia. U.S. companies should not be left behind. While these storylines might not seem as urgent as the myriad regional security issues, commercial ties will be the glue that holds together U.S.-Saudi relations through uncertain times.
_________
Matthew Spivack is Frontier Strategy Group's head of research for the Middle East and North Africa. Prior to Frontier Strategy Group, Matthew worked for the National Democratic Institute on programs involving local government officials and journalists in Gulf Cooperation Council countries as well as anti-corruption initiatives, parliament, and political parties in Yemen. He also spent two years as a paralegal at the U.S. Department of Justice where he was the Victim Witness Coordinator for the Enron Task Force and worked on the largest FCPA case in U.S. history. Matthew has a master's degree in Middle East Studies and Conflict and Conflict Resolution from George Washington University's Elliott School of International Affairs. Twitter: @IMaSpiv